"Lost In The Dark" opens with a shimmering guitar and a slowly throbbing beat that grows into a vivacious track, invoking a sense of nostalgia and passion within listeners as it becomes apparent Shout London is back with another earworm banger. Shout London is virtually unstoppable when comes to blending extraordinarily catchy pop hooks, with emo lyrical themes, and gleaming alt-rock instrumentation. Led by TJ Whiting's instantly recognizable voice and backed by instrumentals that carry the Shout London's iconic brand of upbeat neon-tinged emo-pop and rock into the modern day, this record showcases a refined, matured, and perhaps most importantly, an inspiring version of Shout London.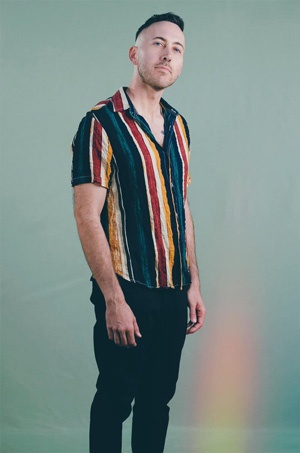 Shout London are busy creating a collection of songs that expertly evoke the legendary sounds of what could be classified, the genre's master works, while approaching it all from a fresh, modern perspective, sure to be especially relatable to both long-time listeners and newcomers to emo-pop and rock genre blends.
Shout London's songs showcase in detail the project's style and what makes it so relevant and catchy. Moreover, singer-songwriter, TJ Whiting again gets to highlight the range and power of his vocal ability throughout the song.
"Lost In The Dark" presents a mesmerizing mid-tempo beat that grows in intensity alongside and an infectious verse-chorus combination that is sure to have listeners singing along from the first listen.
The track carefully unfolds the theme of taking brief relationships and casual human encounters for granted, as TJ Whiting sings: "Sometimes I don't know what I got till it's gone. Sometimes I say things that are so damn wrong. Sometimes I fight but don't do it right. To put out the spark and turn off the light. Sometimes I get lost in the dark."
Currently, TJ Whiting, has to be one of the most accomplished, versatile and prolific singer-songwriters on the musical planet. He is involved in a number of excellent musical projects, churning out potential hit songs on a regular basis. In the process, he is breathing new life into the emo-pop and alternative rock scenes that has been lacking for years.
Even more surprising, is the fact that TJ Whiting is an independent artist turning out high quality, major label-worthy recordings that reek of big budget productions. "Lost In The Dark" by Shout London, is just another example of how far and high TJ Whiting's ingenious musical and technical skillset can reach.
The Story So Far: The musical project Shout London is the brainchild of Cambridge, UK based singer-songwriter, TJ Whiting. Shout London first impacted the scene in 2013 with a self-titled EP, followed by the debut album, "Rememories" in the same year. The deluxe album, "Rewrite the Past" appeared in 2014 along with a string of successful singles. Supported by a backing band, TJ Whiting has played at the 2013 Van's Warped Tour and the 2013 Bryan Stars Tour and opened for the Goo Goo Dolls and Young the Giant at SunFest in 2014.
TJ Whiting has also shared stages with include Go Radio, Melanie Martinez, Echosmith, JT Woodruff (Hawthorne Heights), and Brook Betts (Mayday Parade). Influenced by Mayday Parade, The Summer Set, The Early November, and A Day to Remember, on his first album TJ Whiting collaborated with well-known recording engineer and music producer Andrew Wade.
OFFICIAL LINKS:
Official Website: http://shoutlondon.co.uk
TikTok: https://www.tiktok.com/@shoutlondon
Facebook: http://facebook.com/shoutlondonmusic
Instagram: http://instagram.com/shoutlondon
Spotify: https://open.spotify.com/track/5pb0wrIbVdKFo6daioXzh3?si=77a8b6cde79e424f
Apple Music: https://music.apple.com/us/album/lost-in-the-dark-single/1658642476
Tidal: https://listen.tidal.com/artist/5800899