TaniA Kyllikki, a British singer-songwriter from outside London, is a powerful and formidable indie artist with a strong following. Her old school vocal range and raw organic storytelling approach have drawn parallels to music giants. With her long-distance fiancé and musical collaborator Garry D. Hairston. She writes songs in the countryside among horses she's loves. TaniA Kyllikki can be described in several ways. Her melodies and lyrics convey emotion and empathy with maturity and depth. Her "Why Chapter One" debut album hit #25 on Amazon's Hot 100 Pop Albums in January 2022. TaniA was soon dubbed a "lyrical genius" by the press. TaniA has been featured in a huge variety of popular music magazines and blogs, as well as front cover features since 2021. 3x Grammy Award Winning R&B Artist NeYo presented her new single "Remind me" available on all of TaniA's social media's. Being a survivor owing to a congenital abnormality that produced T.I.A strokes. Asthma, inflammatory illness, escaped physical and emotional abuse. And survived two times attacks of Covid that left her critical. TaniA exudes feminine vitality despite her hardships. Her unwavering faith in God sustains her. With enough songs written for multiple albums to date, fans of TaniA, can expect an endless stream of timeless songs to inspire them with her optimistic resolute attitude.
Can you tell us a little bit how you got started making music and when you began to take it seriously?



TaniA Kyllikki: If you have seen the Disney film "Soul"? There are a few sections where the jazz musician teacher enters this zone that transports him to another world. He is so engrossed in the music that he appears to be in a trance, and everyone and everything around him is silent. That is exactly what music does for me. I believe that God bestows gifts on each of us at birth. I knew from a young age that music was my true calling. Breathing is necessary for survival. Music is the same for me. There was always a wide array of the industry's finest artists being played in my home. I was so moved and enamored by their voices, the music, and the lyrics. I was a young child with a old soul, who had not yet encountered what was in the lyrics in these songs, yet I felt them, understood them, and was moved by them. I spent every waking moment singing and creating lyrics, to the point where I received detention in school for not focusing on my schoolwork. Like in the film "Soul," I would become lost in my imagination with tunes and lyrics that would pop into my head. For years, my hairbrush served as my microphone. When my mother presented me with my first microphone, which she had saved up for months, I was ecstatic!!! As a little child soon as I was able to communicate, I began to take music extremely seriously. I ate, slept, and breathed music.
Who were your first and strongest musical influences that you can remember?



TaniA Kyllikki: There were so many, given the wide diversity of music that was played in my childhood home. However, I'd have to say that the most influential male and female artists I listened to as a child were "Whitney, Mariah, Minnie Riperton, Toni Braxton, Tina Turner, Etta james,  Mary J. Blige, JoJo, Xtina, Lisa Fischer," "Celine," "Charlotte Church," "Prince," "Michael Bolton," and "Michael Jackson." They have influenced and shaped the artist I am today because of their music.
Have you received any formal music or vocal training, or are you self-taught?
TaniA Kyllikki: My musical talent is a gift from God, and I am primarily self-taught. I suppose you could say Whitney, Mariah, etc… Become my primary instructors. My aunt Jean taught me my first song on the piano. Although I cannot read music, I have always loved playing the piano and have trained myself in this regard. My mother did her very best as I grew up in a low-income household, so she could not afford to pay for long-term musical training. She gave me a CD to master voice techniques, such as breath control, placement, etc… During a brief period in my early teenage years, my mother took on additional cleaning jobs to help pay for a vocal coach. He was one of the best in the industry at training musical theatre's top performers. I was only able to attend a handful of his lessons due to his high cost. At a young age, he stated that I possessed a tremendous amount of potential and versatility. I learned so much in the brief time I spent with him, taking what he taught me, I continued to develop my voice and songwriting each year.
What do you feel are the key elements in your music that should resonate with listeners?



TaniA Kyllikki: My listeners can rely on me to create realistic, real-life, genuine music. In an effort to help others, I cover numerous aspects of life in my songs. That is what music means to me: the ability to make a difference in people's lives via my God-given musical talent.
For most artists, originality is first preceded by a phase of learning and, often, emulating others. What was this like for you? How would you describe your development as an artist and music maker, and the transition towards your own style?



TaniA Kyllikki: I honestly believe I have always been aware of my musical niche. Being the ancient soul that I was as a child, it was predetermined that I would pursue a certain type of music. To be able to release music that comes from such a profound place in my heart and to receive such a positive response is a great experience. On my musical journey, though, there have been less enjoyable moments of darkness. People have taken advantage of my innocence, and as a result, I have developed a thicker skin and a stronger defense mechanism. No longer am I as simple to believe and trust. And when I got signed with a couple labels that didn't understand my musical approach, I felt like I was being pulled in so many different places that I was unable to spread my wings and fly. Now, I have a fantastic small team, and we collaborate on my best interests. I am extremely appreciative to everyone who has contributed to my development over the past few years. If I were to sign with another label at this time, I would have to ensure that we are all on the same page. I owe it to myself and my devoted fans.
What is your view on the role and function of music as political, cultural, spiritual, and/or social vehicles – and do you affront any of these themes in your work, or are you purely interested in music as an expression of technical artistry, personal narrative and entertainment?



TaniA Kyllikki: Because of the current events in the world, this subject is open to dispute. Songs are a terrific method for me to express my thoughts and feelings on a wide range of topics, including peace, violence, poverty, the need for people to love one another, and the existence of a greater power.
Could you describe your creative processes? How do you most often start, and go about shaping ideas into a song? Do you usually start with a beat, a narrative in your head, or a melody?



TaniA Kyllikki: Musically, I don't really follow any rules; it all simply comes to me. Every day, I wake up with a music box in my head that plays either lyrics or melodies, or both. Hooks and full-length songs come so easily to me that I record them on my phone all the time. Already, I've written enough songs for several more albums in the future.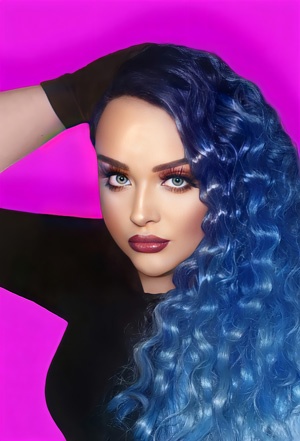 How did your meeting and ongoing musical collaboration with Garry D. Hairston start out?
TaniA Kyllikki: Mine and Garry's adventure has been awe-inspiring. Our meeting is something out of a fairy tale, as I frequently say, I prayed for Garry to come into my life. At the time, I was in hospital with pneumonia and had just ended a partnership that was preparing me to be entirely self-sufficient as an artist. My life had taken a turn for the worse, and I had almost given up on music. Before I was admitted to hospital with pneumonia, I had come up with a song and I decided to record an acapella and share it online. Simply asking whether any skilled producers were interested in working with me on it. "This is who I am," the title of the song, is basically me expressing that I should be free to be who I am and spread my wings. When Garry heard it, he turned it into a gorgeous piano piece. He asked whether this was something I had in mind for my song in a message on Facebook. When I heard what he had done, I burst into tears since it was exactly what I had envisioned for my song. Since then we have worked together and released "Why Chapter One" earlier this year. We've also worked together on a number of other songs that haven't yet been released. To top it all off, we fell head over heels for one other and are getting married soon. Garry is an outstanding producer, songwriter, and musician, and our musical synergy is so unique and rare that it's hard to put into words how special it truly is. I feel very fortunate to have Garry in my life; my heart is overflowing with gratitude and love. In addition to handling my musical career, Garry is always there for me on a personal and professional level.
What has been the most difficult thing you have had to endure in your musical career, or life, so far, and how did you overcome that event?



TaniA Kyllikki: Prior to the last few years, I have experienced a great deal of professional grief in the music industry. Now, though, I am surrounded by an excellent team who have my best interests at heart. Personally I have witnessed and experienced emotional and physical abuse throughout my life, and I am a rape survivor. I was born with a congenital heart defect, severe asthma, and autoimmune diseases. Garry and I have lost five babies. That's why I wrote "What if," a song on my album. Despite how I appear in my glammed-up photos, the truth is that some days I can't even get out of bed because I'm so sick. In fact, that is where I am right now as we conduct this interview. Every day is delicate and unpredictable. At times, it's frustrating and emotionally draining. I've had to mature faster than my years. But in many ways, it's humbled me, kept me grounded, and made me appreciate life on a deeper, more meaningful level. I've had mini-strokes, pneumonia, and even stopped breathing. And a covid survivor, having been in critical condition both times. I believe it is my life's purpose to use everything I've been through to give people hope and faith that they can persevere through everything in life and trust in God, because my faith is what has driven me to release my album, "Why Chapter One" and many more songs that are still yet to come.
On the contrary, what would you consider a successful, proud or significant point in your life or career so far?
TaniA Kyllikki:  I'd say the release of my first album, Why Chapter One. It was so emotionally and physically taxing, with all the difficulties myself and my team had to overcome to get it out. It was incredible to finally release it to the public, and then to have received close to two million album plays in addition to all the Magazine articles, front cover features, positive press, and people creating lyric videos on YouTube and posting my lyrics online, it's unreal!!!
With social media having a heavy impact on our lives and the music business in general, how do you handle criticism, haters and/or naysayers in general? Is it something you pay attention to, or simply ignore?
TaniA Kyllikki: Internet can betray just as much as it illuminates. Thick skin and an open mind are prerequisites for success in this field. To put it another way, I've learned that negativity only serves to create more negativity. Regardless of what you do for a living, you will either be loved or despised in this life. People's personalities and mannerisms can't be manipulated, which is why accepting the fact that the world is full with people with diverse likes is so liberating. Because I enjoy focusing on the positive aspects of life, I have no time for nonsense. To be honest, I'm too preoccupied with the future, my relationship with God, and writing new music. Consequently, I no longer allow comments on my Instagram or YouTube accounts. Having a month in the Amazon Top 100 Hot Pop Albums is a sign that my music is appreciated, and I'm getting good reviews from people all over the world in the press, magazines, etc. Moreover, the fact that people have been sharing my lyrics on social media serves as sufficient proof. I am honestly so touched by the love and positivity I have received. I think alot of this is because I have stayed true to who I am and people feel they can relate with what I have to say in my lyrics, and thats really what creating music is all about.
Putting aside any accolades or criticisms that fans, the industry, or the media may afford your persona or music, is there anything about you or your music, you think people may overlook, underestimate or misunderstand at all?



TaniA Kyllikki: There is a market for every product and every individual. Since I feel that people want to hear music from me that is authentic and honest, that is exactly what they will get! Those listeners who want sounds that are identically reproduced may be dissatisfied with what I have to offer, since I have my own niche. But that's okay.
Could you describe your overall sound and style using five adjectives?



TaniA Kyllikki: "Powerful," "Enlightenment," "Stimulating," "Dramatic," "Earnest."
Could you tell us something about the making of your project "Why Chapter One", and the story or overarching message behind it?
TaniA Kyllikki: A number of significant occurrences in my life, such as being abused, falling in love with my fiance Garry, learning how to love myself, having pregnancies end in miscarriage, and depending on faith to get through it, have all been turned into songs for this album, and my goal is that they may motivate and inspire others.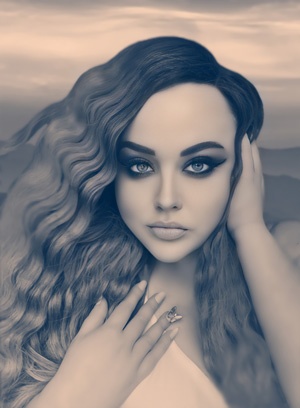 Is there maybe one song on the album that has a more special meaning to you than the others, and if so, why?
TaniA Kyllikki: The song "Handle With Care" is my favourite out of the album, despite the fact that they all hold a particular place in my heart. There is a mingling of my history with my present, but there is still grounds for optimism because I have discovered genuine love, and he is aware of how to treat my heart with care.
Do you have a favorite motto, phrase or piece of advice, you try to live or inspire yourself by?



TaniA Kyllikki: Yes!!! "Keep pushing forward and cherish each and every minute of your life since no one can guarantee that tomorrow will come. On days when you or a loved one is ill, or when you are experiencing other difficulties in life, you may be asking God, "Why me?" and praying. Never give up, never give in, never give up doing what you love, never give up loving yourself and others, and always keep moving forward. Get out there and make a name for yourself because you are unique."
Studio work and songwriting, or performing and interacting with a live audience, which do you prefer, and why?



TaniA Kyllikki: The answer is a resounding yes to all of them! Due to the critical role that they each play in my music career. Working with a talented group of people, such as producers, engineers mixing and mastering the album, a public relations team promoting it, witnessing the positive impact my music has had on the lives of others is what keeps me motivated to keep making music. But God deserves all the credit, because none of this would have been possible without the gifts we have been given by God to share with the world.
What's the most exciting part of being an independent music artist for you, and which is the part you like least?



TaniA Kyllikki: Artists, whether independent or signed to a major label, face challenges for a variety of reasons. Once your reputation has been established, all eyes are on you. It is also possible for an artist to remain dissatisfied while having a record deal worth 5 million pounds or a smaller independent deal. Being a member of a cohesive team is the most crucial aspect of achieving success. I am currently in a terrific situation because I work with incredible team who have faith in my abilities and provide me with the vital creative freedom I need to grow, which is invaluable.
How essential do you think video is in relation to your music? Do you have a favorite visual you could suggest fans see, to get a better understanding of your persona and craft?



TaniA Kyllikki: In my opinion, a visual accompaniment is equally as essential as the music itself. It enlightens the observer or listener about the song's more profound significance. When people listen to my single "WHY," for example, they watch a clip depicting the anguish that comes from being abused, which brings the lyrics to life.
What do you find most rewarding about your craft? And do you have a specific vision or goal set in your mind that you would like to achieve in the near future?
TaniA Kyllikki: The fact that so many individuals listen to my music and respond positively to it is one of the biggest advantages of all for me. Every member of the crew who helped bring my songs to life. And God, for granting me the ability to be successful in each of these endeavors. I pray that the gift of music will enable me to continue to reach more people with my message so that I can make a difference in their lives. And one of my goals for the future is to be able to better provide for my family while also giving back to people who are in need and require support to make positive changes in their lives, whether they are homeless or have been mistreated in violent relationships. In addition, one of my goals is to assist creative individuals who are in need of a break. There is so much talent that needs to be heard, and I'd love to be a part of altering people's lives. This is my prayer and my hope for not only the present but also the future.
Why Chapter One – Album + Social Media links:
Why-chapter-one Album
https://ditto.fm/why-chapter-one
YouTube:
https://www.youtube.com/c/TaniAKyllikki
Spotify:
https://open.spotify.com/artist/2fftdozjYOvW6pP3nDruCa?si=Estqb7YBRqaO1Y3zF_YLmg
Instagram:
https://www.instagram.com/taniakyllikki/
Facebook Music Page:
https://www.facebook.com/TaniAKyllikki/
Twitter:
https://www.twitter.com/tania_kyllikki/
Facebook Main:
https://www.facebook.com/TaniaKyllikkiOfficial