Born and raised in Tennessee, Kemi$try was destined to be a singer, rapper, and songwriter before she even realized it.  "I've been writing since I was a kid… I started off writing poems, but I didn't take it seriously until I became an adult," she explained. She became a full-fledged author writing Susie Long Legs, a children's book about a girl who was teased and bullied for her beautiful, long, skinny legs. In 2018, she published Emma and the Sea Creatures. But for her, that still wan't enough. "I believed in myself so much, she explained. "I wanted to take my writing skills further, so I started writing songs again." Now she's putting her energy into drafting fire lyrics and punching in power bars in the studio. She recently dropped her hot new track entitled, "Make it Jump Sis".  The single is an anthem of the liberation and celebration of feminine thickness.
Kemi$try's new single, Make it Jump Sis and her other two bangers, Get it Like Russell ft. Kdezy and I Got That Fire are out now and available on all major platforms.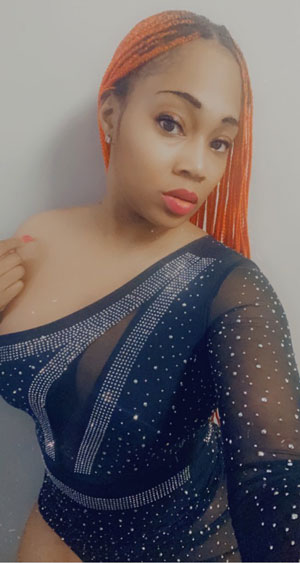 1. Can you tell us a bit about where you come from and how you got started?
Kemi$try: I'm from Nashville Tennessee born and raised I started writing music when I was a kid when I attended school on up to high school I was in chorus and I grew up in church singing in the church choir singing in front of the church members.
2. Do you handle both the songwriting and beats on your songs, and do you collaborate with others?
Kemi$try: I write my own songs but I purchase my beats elsewhere I've collaborated with an artist from Nashville name kdezy he's well known In Nashville but there will be other artists I collaborate with in the near future he's the first but he's definitely not the last I'll collaborate with
3. Who were your first and strongest musical influences that you can remember, and who are you listening to right now?
Kemi$try: Lil Kim, Eve, Trina, Lauren hill and Nicki Minaj. I listen to just about any artist I can vibe with my list is long so I just named a few artists I've always listened to.
4. What do you feel are the key elements in your music that should resonate with listeners?
Kemi$try: Focus on my lyrics and not my beats to the lyrics.
5. For most artists, originality is first preceded by a phase of learning and, often, emulating others. What was this like for you? How would you describe your own development as an artist, and the transition towards your own style?
Kemi$try: I'm original since I don't idol any other artist. Usually people that look up to other artists or say I wanna be just like that person usually turn out impersonating that person, and that's why I'm original. I rap like my own country self lol I own my own look but there's nothing wrong with someone looking up to another person just don't try to become that person.
6. What's your view on the role and function of music as political, cultural, spiritual, and/or social vehicles – and do you try and affront any of these themes in your work, or are you purely interested in music as an expression of technical artistry, personal narrative and entertainment?
Kemi$try: I don't get into political, cultural or spiritual affairs since it seems to cause big debates and arguments everyone will not be on the same page everyone will have different opinions.
7. If someone has never heard your music, which 5 keywords would you personally use to describe what you and your music is all about?
Kemi$try: Energetic, out spoken, freaky, odd, level up.
8. Could you describe your creative processes? How do usually start, and go about shaping ideas into a completed song? Do you usually start with a beat, or a narrative in your head?
Kemi$try: Whatever comes to my mind, I begin with that. I usually write first then choose a beat then lay my words on the beat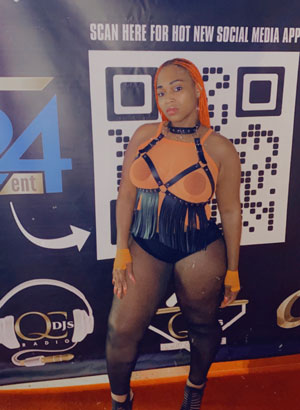 9. What has been the most difficult thing you've had to endure in your life or career so far?
Kemi$try: I've experienced losing so many loved ones during my life as for my career I haven't experienced anything bad yet hopefully I don't since I'm on the right path.
10. On the contrary, what would you consider a successful, proud or significant point in your life or career so far?
Kemi$try: When I released my first single called I got that fire along with the video so many people doubted me but I proved them wrong and I proved myself wrong. At first when I began my music career I doubted myself, also I based my talents on what others thought of me.
11. Putting aside any accolades or criticisms that fans, the industry, or the media may afford your persona or music, is there anything about you or your music, you think people may overlook, underestimate or misunderstand at all?
Kemi$try: Right now I think people are digging my music so I'm not sure if anyone misunderstands it. I kinda explain everything in the song
12. Do you think is it important for fans of your music to understand the real story and message driving each of your songs, or do you feel everyone should be free to interpret your songs in their own way?
Kemi$try: Yes it's important for my fans and supporters to understand the real reason behind my songs. Some songs will be based on my life or other people lives.
13. Even though you have fully launched your musical career now, will you still be writing children's books? And what is it about this specific craft that attracts your attention?
Kemi$try: Oh yes ! I'll definitely still continue to write children books and adult books. I can do all things, I like to have a variety of things to do and achieve. I've always been a writer since a kid. It's my passion. I like to relive my characters as I'm writing.
14. With social media having a heavy impact on our lives and the music business in general, how do you handle criticism, haters and/or naysayers in general? Is it something you pay attention to, or simply ignore?
Kemi$try: At first the haters naysayers etc didn't faze me since I know everyone is entitled to their own opinions. Some opinions are just harsher than others but what made me go extra hard on my haters is when someone reported my original Instagram page to Instagram stating I was under age therefore Instagram disabled my page. It kinda took a toll on me for a minute cause I worked so hard on that page it wasn't just a page to me it was the way I promoted my music it was a way I encouraged other people to believe in themselves. So when my page became disabled it handicapped me along with it, but by that happening it really showed me I had a major or some major haters and that's why I go super woman hard now with my music. I hope my haters reading this go bite my success HA HA HA.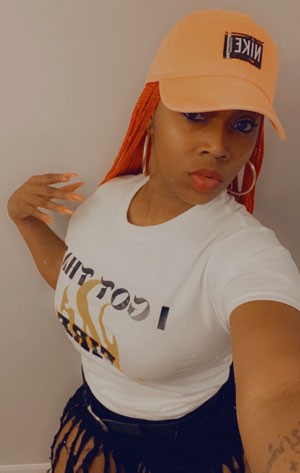 15. Could you tell us something about your latest project, "Make it Jumps Sis", and what the message is behind it?
Kemi$try:  Make it jump sis, is about us real A$$ women making noise. We busting ear drums and all with the noise we causing letting folks know hey I'm still that real A$$ B*t*h whether it's making noise with your success or with popping your phat A$$ either way we making noise so we basically saying move over fake B*i*he's let us real women come through
16. You currently have three banging singles out right now. Which is your absolute personal favorite, and why?
Kemi$try: I'm digging all my songs cause I worked hard on every song, but I must say, Make it jump sis, is my favorite and I can tell it's the people's favorite song as well. It's my favorite cause I kinda switched up my tone so it makes the song pop even more.
17. Creative work in studio environment, or interaction with a live audience? Which of these two options excite you most, and why?
Kemi$try: Everything involving other people excites me, whether it's live on social media etc. my attitude get all kiddie like when I make people smile and see them rocking their heads to my music. That's what excites me.
18. Do you have a favorite motto, phrase or piece of advice, you try to live or inspire yourself by?
Kemi$try: Yes it's often imitated never duplicated.
19. How essential do you think video is in relation to your music? Do you have a visual you could suggest fans see, to get a better understanding of your persona and craft?
Kemi$try: Any fan that doesn't understand my music can hit me up on social media anytime I will explain it to that person
20. What do you find most rewarding about what you do? And do you have a specific vision or goal set in your mind that you would like to achieve in the near future?
Kemi$try: My vision is to spice things up in the music industry. Bring out something new, like a new trend or style to music. I'm not only a rapper I do several things, therefore the next thing in my future I want to achieve is becoming a great actress.