Romaine Reid, born 27 October 1995 better known as Pro Venom, is a Jamaican Artist, Songwriter & Co-Producer for an upcoming record label (Futureline Records), TikTok Influencer, YouTuber, and Twitch Partner who grew up in Jamaica, where he spent the first 10 years of his life in Kingston before moving back to his birthplace in Old Harbour, Saint Catherine. He currently lives in London, England.
About
Jamaican TikTok Star, Artist, and social media personality who is best known for the songs "London Girls",  "Hard Times" and his popular TikTok live streams hosted to thousands of viewers." He utilized his Pro Venom TikTok account mostly for his entertaining live streams where his fans can enjoy hours of laughter and a positive vibe.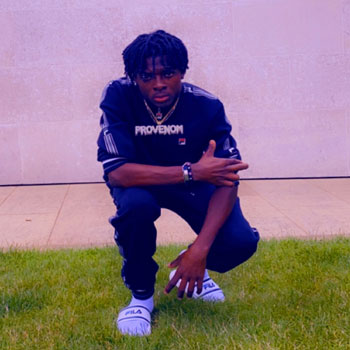 Before Fame
He started with playing PUBG Mobile, then went on to Fortnite where he hosted multiple custom games for his viewers. He was also known for posting vlogs, challenges, and prank-style videos on his YouTube channel. Pro Venom began his professional artistic journey after he uploaded a recording he made back in 2015. Since then, he started taking music seriously, as he noticed his song, which was not professionally engineered, gained 25,000 plays in less than a week, and has gotten over 30,000 plays since uploaded in July 2020. Pro Venom's main focus is on music right now as he tries to educate himself on not just the entertainment but also the business part of the music.
New Music
Pro Venom released "London Girls" in 2021 and has shown a few previews of future projects that he will be releasing in 2022. The first song to be released as he confirmed in an Instagram story will be called "Trash X Girls Are Better" which will be featuring a female Rap artist from the United Kingdom who goes by the name "Cassius".
Trivia
Brand/Companies Pro Venom is partnered/affiliated (Twitch, Amazon, Wraith Energy. He is 5'9 (179 centimetres). His favourite colour is blue. In December 2020 Pro Venom teamed up with, Danovan Bull CEO of Futureline Record Label. The latest releases from the label include Mind Games by Jah Currant, Fit Fi Survive by Louie Culture, Bushman's Your Life ft Jah Currant, Road of Life by Half Pint, and Charlie Charlie, and I Want U by Leci.
Family Life
He married his wife Esika Marsh in January 2017. The couple welcomed their first son Romaine Jr in November 2020, with a second child due in July 2022.
Associated With
He dubbed Mavado his godfather, as he's been a role model and a mentor to Pro Venom from 2005. Pro Venom got married on the same date in January as Mavado and they also follow each other on Instagram.
OFFICIAL LINKS:
Instagram
https://www.instagram.com/provenomofficial
Facebook
https://www.facebook.com/provenom
Spotify
https://open.spotify.com/artist/5wc6wJxki56UaIPJdg6zWf
Website
https://www.provenomofficial.com/
Soundcloud
https://soundcloud.com/pro-venom
Youtube
https://www.youtube.com/provenom
Where To Buy Music
https://music.apple.com/us/artist/pro-venom/1542525654