James Peden, an electronic music producer from Melbourne, Australia, releases his brand new 3-sided single, entitled "Angel", via Pur Zynth Records. The project comprises three versions of the song- The original song features Spaceman 1981 on the mix and guitar, while the other two are atmospheric remixes by Ivofonic and Gairaigo from Victoria, Australia. This release sees the return of James Peden doing what he does best – synthesizing various electronic flavors together into catchy, high-energy club bangers. It must be said that the songwriter and producer's work on "Angel" in perfecting his craft is apparent, and showcases just how much of an EDM powerhouse James Peden has become.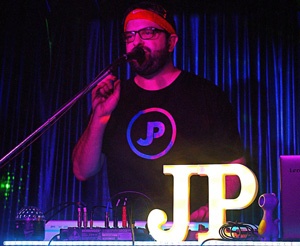 The song was originally written in 2011, and It first appeared at the 'Blackstump' music festival in NSW, for an electronic music night run by Dance Mission. The song then sat on the shelf for a while before it was re-worked and sent to Spaceman 1981, a synth-wave producer from Russia, who mixed it and added his epic guitar skills. The result is an intense dancefloor ready song with an affecting aura, due to the soaring vocals and soulful guitar interludes.
With our attention span constantly reducing, and music at our literal fingerprints, creatives have had to fine-tune their craft to suit our multiple needs. What stands out in the genre is the diversity, and "Angel" delivers just that with the Ivofonic and Gairaigo remixes adding fresh flavors to the original recording.
The production on this project is absolutely pristine – every fuzzy, reverb-soaked layer of synthesizer sounds is perfectly placed in the mix, balanced by melodramatic drum patterns. James Peden's strength in writing gorgeous melodies and complementing them with shimmering synths shine through, making "Angel" every bit as captivating, as any of its predecessors.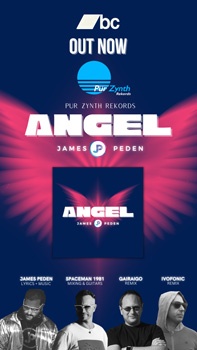 The producers involved here, take everything out of the available equipment, creating a soundtrack that will please all nostalgic retro wave connoisseurs, to cyberpunk and modern electronic music fans. The evolving sounds on each remix exist on a whole other astral-plane, with masterfully sculptured sonic integrity.
"Angel" manages to bridge the divide between a pure synthwave experience and a modern radio-ready electronic sound. It's an ambitious release that will please both the genre purists looking for yet another synth fix and the general EDM crowd that enjoys solid songwriting and a good share of high-rising vocals.
A strong focus on vocals is evident on "Angel", and that alone makes it a powerful crossover release. Vocals are clearly the backbone and centerpiece of every remix with the synths and percussion enveloping them. The performance and production is immaculate. Each warm echo of the synthesizers, builds up the remixes to their full potential. "Angel" avoids the pitfall of most electronic music, of being too clinical and emotionless; instead it takes a much loved genre and gives it a new lease of life.
Of course the guitar adds an extra organic edge to these mixes to match the absolutely incredible vocals. "Angel" is a cohesive, self-contained work, and rewards repeated listening. Within the ever-shifting creative parameters of electronic music making, James Peden shows a remarkable commitment to consistency. If there really are angels out and about lending a helping hand, they certainly are watching over James Peden's music.
OFFICIAL LINKS:
www.jamespedenmusic.com
https://www.youtube.com/watch?v=Wk1Z9_joquo
https://purzynthrekords.bandcamp.com/album/angel
https://hypeddit.com/jamespeden/angel
https://www.instagram.com/james_peden_music/