"Next Level" streaming on all digital platforms, the conscious rapper takes listeners on a drive through his solid hustle and definitive mindset to achieve massive gains. The release of "Next Level" follows the unstoppable success of Grisha Consta's album "Immigrant" which has garnered thousands of streams worldwide. Continuing to pursue his endeavors as a successful rap artist worldwide, Grisha Consta "Next Level" recognizes his many blessings in his advancement to the top, and his never ending journey to progress as a musical entrepreneur.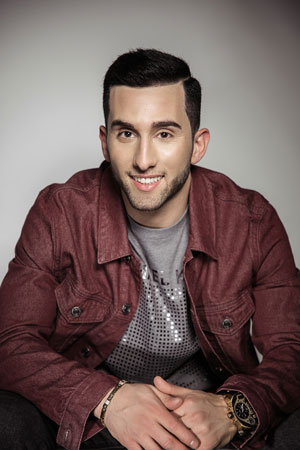 Grisha Consta's alluring businessman mentality and bilingual mastery has given the artist an undoubtedly advantage in influencing his listeners to take control of their dreams and deflect all fears and doubts to chase them. Naturally, as a perfectionist, Gisha Consta wrote and directed the music video to "Next Level" giving listeners a glimpse into his life in Los Angeles.
When asked about his best advice to others wanting to succeed in their dreams, Grisha Consta responds, "I call fear my biggest enemy from my own experience. Because of fear we lose the opportunity of trying to do something new and get out of our comfort zone. Every day, we have a choice to listen to ourselves or people that surround us. I choose to listen to my inner voice and to nurture it with positive energy and stories of successful people. My best advice for readers is not to fear new beginnings, new opportunities that life gives them on their way."
Currently, Gisha Consta established his studio "G-Mod Records" in his home city Tashken, assisting local artists with his success and knowledge in music promotion, giving all artists a chance to share their music. He plans to continue to unite people through his music, consider offers from new record labels, and perform worldwide.
"Next Level" is an urban rap indulgence, heavily motivating the listener to dedicate and work to achieve the next level. Reflecting that at just 19 years old, Grisha Consta left his home country to America and bet his work ethic to succeed in what just many have imagined, he has paved the way for all immigrants to achieve their dreams. -trushiro
Social Media Links:
https://www.instagram.com/grishaconsta/
https://www.facebook.com/grishaconsta/
https://www.youtube.com/c/GrishaConsta
https://twitter.com/grishaconsta
https://music.apple.com/us/artist/grisha-consta/1479104249
https://open.spotify.com/artist/3OU6BGIUi5hUdVk5PMoYoP?si=m9VdJfGMR-qOLGQ96QhW5A https://www.iheart.com/artist/grisha-consta-33350839/?autoplay=true
https://music.youtube.com/channel/UCEq9Jz9WilC-685tIVdPvRA
Purchase here: https://music.apple.com/us/artist/grisha-consta/1479104249