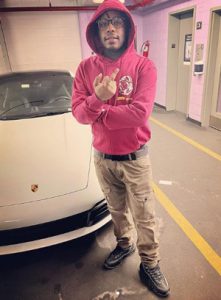 Bossen's an East coast artist who has being called one of the most singular artists to come from Connecticut of his generation. Bossen first earned a boat-load of attention for his music for having a one-of-kind flow, laid back smooth style, vicious word play, and his impeccable production and beat selection.
If your not familiar with Bossen and his work he's arguably the biggest and most influential underground rapper coming out of CT right now. He grew up in Waterbury, CT where he built his brand and began to start his wave of "Nervous music". His inspirations for his 'Antisocial' project, come from his "Lifestyle", and is based on the things going on around his city.
Bossen learned to separate music from reality and began to build his own record label "Always Paid Entertainment" by taking the CEO approach and expanding his connections. Bossen has another project coming out later this year called "King of Waterbury".
OFFICIAL LINKS:
Instagram
https://www.instagram.com/dante_bossen/
Facebook
https://www.facebook.com/dante.bossen.5
Spotify
https://open.spotify.com/artist/1YpyT6rRRjKC9YfYpuM99E?si=5tzbhB7GSlOnVX7eWXscEQ
Soundcloud
https://soundcloud.com/dante_bossen
Youtube
https://www.youtube.com/channel/UCXq2V3zizt2DenvLmfVhpbQ
Where To Buy Your Music
https://music.apple.com/us/artist/bossen/1599632954