LA-based artist Angelica Renee is on a mission to help others heal. Writing, recording, and producing all of her own music, for Angelica Renee music matters. Through powerful songwriting, she uses her music to shed a light on mental health, preventing suicide while bringing together a creative community. As a mixed-race woman, Angelica Renee often jokes that she fits nowhere and everywhere. But she has owned this perception through her music, inspired by multiple cultures and genres, adding flavors and spices to create her own signature sound.
Bending the rules, Angelica Renee fuses together soundscapes and styles that reflect the emotion of her songwriting, expressing and experimenting herself as life ebbs and flows. Lyrically, her music is an open journal that she uses to process her experiences and the world around her. She often creates music as personal prayers, asking God for direction and guidance, as she goes on a journey of self-discovery, processing the difficult moments and seeking the answers and revelations.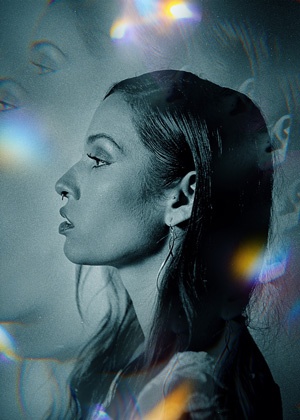 Angelica Renee's upcoming project, a trilogy visual album, and a book, explores mental health in a technology-heavy world while aiding suicide prevention. Surrounded by other artists and creatives, Angelica Renee has seen her own friends struggle with drug addictions or suffer from severe depression, sadly ending in suicide. Angelica Renee herself has experienced and overcome these painful wounds, and the project has helped her focus on the healing process.
The album highlights the steps to a healthier and positive lifestyle, regardless of the challenges that are thrown her way. She strives to be an example for others in the creative community to prove that change is possible and that there is a light at the end of the tunnel. Angelica Renee's career has been a vibrant one, playing a lead role in the 'Parallel Worlds', a stage play that ran for seven weeks in LA in 2016 and 2017. She was later cast and also shot the movie version of the show, which is scheduled for release in late 2022. While music is her passion, acting has given her the chance to express and experience extreme versions of herself as a musician.
Musically, Angelica Renee's music is pop with an urban twist, influenced by the likes of The Weekend and Pink, while exposing her to an eclectic mix of Chopin, Stevie Wonder, Lauryn Hill, Led Zeppelin and Imogen Heap growing up. Her captivating live performances combine her pop sound with rock elements and dancing. She has played to 30,000 people at Worship Night in Uganda, a faith-based festival. She played two benefit concerts, Hearts for Mercy in 2018 and 2019, raising funds to build an elementary school for an orphanage in Uganda, which officially opened in 2019.
Angelica Renee is soon set to release her single and music video 'Come Together,' featuring UG kids' dance squad, Zari Africa Africa, which was shot in both Uganda and Hollywood. She continues to work in LA's youth arts community specializing in vocals, piano, production, dance and theater, mentoring young people about the importance of expressing themselves through dance and music.
OFFICIAL LINKS:
Instagram
https://www.instagram.com/angelicacanfly/?hl=en
Spotify
https://open.spotify.com/artist/2OXAyD9czl9TvqxkGJKhej?si=d_BYB4XsRYOEf6OkATVcZQ
Youtube
Where To Buy Music