Born in New Orleans, Louisiana, Douglas Miller aka Young Miller or Young Miller Tha Don has worked under the mentorship of Master P, a successful record producer, entrepreneur, actor, and former basketball player who also happens to be his uncle. Not to mention the involvement with his cousin Romeo Miller. Watching his family members navigate the game, between successes and setbacks, has also given Young Miller the insight to direct his own musical career.
Once a member of No Limit Records with the Rich Boyz, he has also launched his solo recording career which has steadily been growing from strength to strength. Along the way, he hooked up partner Rich Banks and merged with WorldFusion/DMG.  Though Young Miller has music at the center of his universe, his passion for Tech, TV/Film and Fashion clothing design is never left too far behind.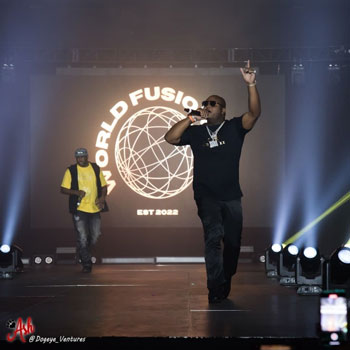 Currently working on an album, Young Miller has dropped a series of hot singles along the way. The latest being, "They Knew It". The track serves as a reminder of his current standing within the industry. Right from the opening bars, fans of Young Miller can be left fully satisfied with this project, as it has plenty of rugged straight talk, but more importantly growth, as fans can see the fruits of the rapper's ascension. His talents are ready to rub elbows with the hip-hop industry's elite, as of right now.
On "They Knew It", Young Miller continues to elevate, and flexes his skills – switching between old school wordplay, and a new school singsong styled flow. There is not a moment where Young Miller does not strive to impress, manifesting a hearty platter of lyricism for hungry fans to indulge in. He is constantly mounting layers in his lyricism. He knows what he wants and delivers translucent flows, immersing himself in the production. It makes his verses flourish throughout the song.
Young Miller is always looking to bring something real and creative into his music. The depth and quality of his storytelling hold no bounds, delivering a beautiful parallel with the production on "They Knew It".
There is such an effervescent charm and energy, which derives from Young Miller's demeanor and approach that you can't help but feel entrenched by his words. He has a very dominant and unforgiving mic presence, as he usually does, which continues to build on his reputation.
"They Knew It" is significant because, among other things, it's a totem of a musician getting ahead of an orbit he has been occupying for years as a top tier indie artist. It shows that Young Miller sure knows what he is made of, and beautifully asserts both his creative, and performance powers.
There can be no doubt that his latest release, "They Knew It", continues to prove his consistency in making good music, on each and every release. This single is very much to-the-point and captures the essence of what people will love about Young Miller.
OFFICIAL LINKS:
IG @youngmillerdmg
Twitter @iamyoungmiller
TikTok @youngmiller504
Website www.Ceodonmiller.com
YouTube https://youtube.com/channel/UCoBI2aS6aWSHKe_WumkdIVA
For Bookings Contact Banksrich722@gmail.com or Youngmiller504@gmail.com