Prepare yourself for a mind-blowing rap experience as the unstoppable force known as Wynston Willis, in collaboration with the relentless talents of Ritchie Carlyle, R-A The Great, and Benny The Butcher, unleashes their latest single, "I90." This high-octane track, released through the dynamic partnership of Acquired Taste Media LLC and State Of Emergency Music Group, will leave you in awe of the rap prowess displayed by this formidable crew. With their collective lyrical brilliance and unwavering delivery, these emcees demand your attention from the very first beat.
Ritchie Carlyle and R-A The Great, both hailing from the vibrant city of Cleveland, Ohio, bring an independent spirit and raw energy to the table. Their roots in this urban jungle have forged them into rap warriors ready to conquer any sonic territory. Joining forces with them is none other than Benny The Butcher, a major label heavyweight representing Def Jam and the gritty streets of Buffalo, New York. This explosive collaboration between Cleveland and Buffalo is set to leave a lasting impact on the rap scene.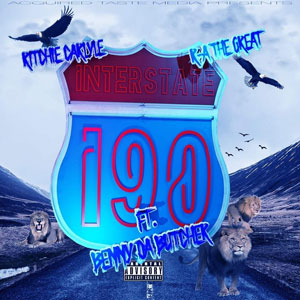 "190," the latest offering from the Wynston Willis project, is an unapologetic declaration that these artists mean business as emcees. Ritchie Carlyle sets the tone with his immersive, energetic, and empowering rhymes, immediately grabbing your attention and refusing to let go.
R-A The Great follows suit, maintaining the momentum with his tongue-twisting cadence, leaving you breathless in awe of his lyrical dexterity. And just when you think the intensity can't get any higher, Benny The Butcher storms in, dropping a killer verse that solidifies his reputation as a rap heavyweight.
The foundation of "190" lies within a pulsating, slow-burning groove, propelled by a growling bassline and cracking percussion. As the production sets the stage, the keyboards weave an ominous atmosphere, creating an intense sonic landscape for the rappers to weave their lyrical tapestries upon. The synergy between the haunting instrumental and the masterful delivery of the artists creates a vivid mood that is absolutely mesmerizing.
Each performer on the mic exudes an impenetrable delivery and commanding presence, standing tall next to their technically and lyrically equipped counterparts. With the ability to bend syllables into complex rhyme schemes and effortlessly switch flows, they showcase their nimble and versatile talents. "190" stands as a testament to their authenticity as rap artists, ensuring a listening experience that is both distinct and captivating.
In a year filled with numerous rap releases, few records have managed to capture the imagination like "190." What truly sets this track apart is the remarkable synergy between these collaborative talents. With equal emphasis placed on both impeccable production and profound lyricism, Wynston Willis has crafted a rare gem—an exceptionally balanced and complete product.
Witnessing the fusion of such extraordinary talents is a testament to the magic that happens when artists come together with a shared vision. "I90" is just a taste of the fire that this rap project unleashes upon the world. It's time to take notice, as this powerhouse of collective talents elevate the rap game to its former glory.
OFFICIAL LINKS: https://lnkfi.re/oJeYYhAl
Instagram: Ritchie Carlyle @ritchiecarlyle216 / R-A The Great @dudewiththebeard / Benny The Butcher @getbenny