The Canadian rock band from Southern Ontario, Saints Down are back with their 3rd single "Temporary, Momentary, Ordinary", that takes the classic radio-rock sound and elevates it to a whole new level. It doesn't shy away from the band's roots and influences, and keeps their rawness alive as well, adding a polished production and ultimately packing a superior sound. The vocal delivery is powerful and flawless throughout the single. The bass riffs are fierce and ominous, while the keys, guitars and the drums are expertly placed into position on the track. This is all wrapped up in a modern-sounding arrangement that allows the band to feel more relevant than ever before.
In terms of songwriting, it's hard to find contemporary, radio-ready rock records with the same caliber as "Temporary, Momentary, Ordinary". The verses are edgy and soulful, while the choruses sound huge, with some of the best vocal execution you're likely to hear for quite some time.
Though the words on this record are fantastic and certainly seem to be stacked up to plays out in an emotional sense, Benjamin Doncom could literally sing anything at this point and make it sound incredible. His voice oozes style and power.
"Temporary, Momentary, Ordinary" is a soulful slow-burner – intriguing from the get go, with certain rock tropes that grab you by the throat while others materialize tantalizingly along the way.
Band co-founders Rob Palombo and Walter Riggi also dig in deep to design a captivating soundscape, as the brooding mix of urgent and mysterious tones really pull you in. It gives the whole song an almost cinematic quality. Its mystique slowly oozes out before bursting into a commanding, full-on radio-rock sortie.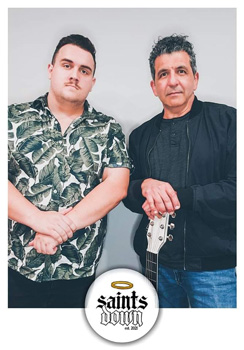 The new single is a song of depth and impact that merits luxuriant contemplating over. "Temporary, Momentary, Ordinary" also shows off the Canadian band's range in performing bluesy rock n' roll; with high energy vocals and a slow melancholy rhythm, the music offers a variety of emotional tones for listeners to absorb.
In all its mood and style, it exudes a delicious blend of modern and classic rock. Each component of the band compliments one another, helping to establish a unifying element throughout the music.
The production skills capture the signature smooth grit of the music and juxtaposes it against Doncom's powerful, cleanly delivered vocals. The slow-stomping drums are pushed to all corners of the mix, with pulsating bass in lock step. The chorus is infectious.
Saints Down remain adept at processing their influences and then turning out earworm anthems. Full of skilled instrumental licks, stimulating vocals, and a rattling rhythm section, "Temporary, Momentary, Ordinary" is a consummate example of why Saints Down are experts at their craft.
Maybe it's just the dearth of quality within modern-rock, but "Temporary, Momentary, Ordinary" definitely feels like a better example of the genre done right than so many bands that have come before Saints Down in recent times. At this point, the band know what is going to appeal to their fans, and this latest single is simply delivering…by the bucket load!