Storied Windows are always tinkering around the edges of their sonic universe, getting deeper, more cerebral, subtler, and more expansive. They do that on the EP "Where I Used to Be", and the payoff is enormous. The music is atmospheric, instantly identifiable, melodically beguiling, and seductive enough to keep you coming back over and over again. Storied Windows have always been about mood and feeling in the same manner as they have been about sharp melodies and luscious harmonies. All these elements together make the new EP an irresistible listen.
The multi-genre husband and wife, music composition, songwriting and production team based in the Washington DC area, once again has us drifting slowly into their enchanting musical space. Jangling guitars, lushly layered keyboards, as well as mellifluous and resonating vocals rise from the organic arrangements like levitating spirits on a hypnotic head-trip of the highest caliber.
"All My Cares" begins the EP with the steady rattle of the drum kit, and a wave of velvety guitars. The vocals are crystalline gorgeousness, always flowing with the music rather than cutting against it. "Shimmer" is particularly beguiling, a swaying mesmeric slow dance of atmospheric grace.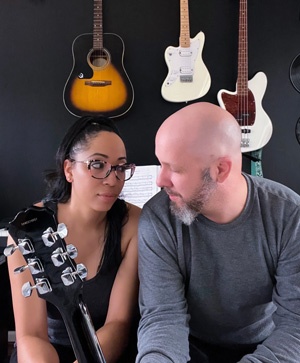 Bright pulses of acoustic strumming and emotional strings give "Spoken For" a vaguely cinematic feel. But it's how Storied Windows go about setting the sonic stage that makes a difference – adjusting the tone, size, and texture of each passage of the song.
Whichever way you look at it, Storied Windows new EP feels like their most mature effort to date. Somehow, that statement rings true almost every time the husband and wife duo return with a new project, which speaks to the natural evolution of their singular, instantly recognizable sound.
"Falling" shows how Storied Windows has mastered and realized the delectability of the foundational nature of a great verse followed by an astounding and astonishing chorus. Its impact is one that is profoundly mesmerizing on this track.
What's most impressive about "Where I Used to Be", is not how epic or ambitious it is, but how smooth, contemplative, and focused it can be without sacrificing any of its emotional weight. The music has that introspective, mystical intimacy along with a combination of lush keys, hypnotic vocals, and impeccable arrangements, and of course, an emotional aura of light and shadow.
The EP closes with the title track, "Where I Used to Be". The song sets out to capture a kind of dreamy, ephemeral beauty and conjures a sound that's rich and radiant enough to match its captivating chorus.
Richard and Traci Wilusz aka Storied Windows create the illusion of comfort and familiarity while constantly grasping at something vaster and more profound.  So often with the duo's music, the experience lies in the emotional arc of listening to a project from beginning to end, accompanying the music along the ebb and flow of ache and longing.
There are some serious musical gems to be found on "Where I Used to Be", and the EP adds further definition to our understanding of a duo who too often deserve much more recognition than they are already enjoying.
OFFICIAL LINKS:
www.storiedwindows.com
www.facebook.com/storiedwindows
www.instagram.com/storiedwindows