I'm not sure is Solomon Tention wants to be called a spoken word artist at all, but it's simply a way of expressing the artistic context of what he has done on the album "Unfiltered; Inspiring Millennials on Purpose, Vol1". What we do know as a fact, is that Solomon is a scholar, author, and entrepreneur who has dedicated his life to creating environments that enable people to grow and achieve holistic success. He has featured nationally, on CBS, ABC, FOX, and various other media outlets. Focused on inspiring others towards a life on purpose, Solomon himself is inspired daily by the quote, "Success can't be climbed with your hands in your pockets."
What Solomon Tention has achieved with the 10-track album "Unfiltered; Inspiring Millennials on Purpose, Vol1", is something that droves of adulated rappers and hip-hop artists fail to do, purposely or not. Backed by instrumentals for the purpose of education, enlightenment and empowerment, Solomon delivers a masterclass in vocal parlance with dramatization and intonation speech. His aim is to assist the inner growth of the new generation, by stimulating self-esteem, self-assuredness and self-empowerment.
"The answers to your problems can be found within yourself," is generally the message that Solomon Tention communicates in a number of ways throughout "Unfiltered; Inspiring Millennials on Purpose, Vol1". Simply reading the track titles will give you an indication of the number of themes and topics Solomon affronts with both candor and decision. Checking the track runtimes, will further highlight how his focus on words and their usage is concise and to the point, as he goes straight to the core of the matter.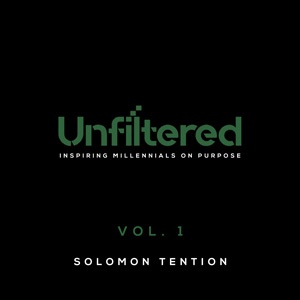 A number of prolific spoken word artists have pushed the bar with their boundless creative energy to become pace setters of the art, but in essence, most are socially or politically inclined poets. None are on the same educational and inspirational level that Solomon Tention is currently navigating. He is entirely in his own lane, and he is right out at the front. Solomon's unique style of writing and performing will capture the heart and mindsets of his audience.
Unlike many of his rap and hip-hop contemporaries, Solomon Tention does not use any sonic bells and whistles to hide behind, his voice and content, is at the forefront of the mix, as it unpacks the weighty substance of each discourse. His voice inspires while his art is creating a positive, opportunity-seeking mindset. Solomon speaks to listeners in the common language they talk to themselves in every day, which makes his speeches so easy to grasp. In essence, Solomon Tention is everything a good inspirational spoken word educator should be.
Solomon Tention can paint masterpieces with his words, but not in the sense of stringing together pretty poetic phrases. Rather, he is able to magnificently weave together impactful wordage on life's blunt truths in the shortest time possible. That is a skill owned only by the most outstanding communicators of our time.
For those immediately interested in its content, the "Unfiltered; Inspiring Millennials on Purpose, Vol1" tracklist, reads as follows: "Intro: You Have Purpose", "The Real You", "Embrace Silence", "Growth is Uncomfortable…",  "How Long", "Not Having The Answers", "Are You Really Different", "It Don't Matter…Keep Growing Anyway", "Unpopular Opinion: There's No Such Thing As Luck" and "What About Legacy".
OFFICIAL LINKS:
https://linktr.ee/drsolomontention
https://music.apple.com/us/artist/solomon-tention/1614005765
https://open.spotify.com/album/45emtIveyGtvMxd6jXWGrF?utm_medium=share&utm_source=linktree