In a world where music has the power to set hearts ablaze and transport us to otherworldly realms, one band stands at the forefront, commanding attention and respect with their scorching melodies and soul-stirring lyrics. Formed in 2004, The Rusty Wright Band has been a blazing comet in the musical universe, leaving an indelible mark on the blues-rock scene with their explosive talent and unwavering dedication.
With a discography adorned by five original albums, The Rusty Wright Band has solidified their position as trailblazers in the realm of blues. Their 2015 release, "Wonder Man," not only ascended to Top Ten glory on the esteemed Billboard Blues Charts, but also garnered a nomination for Album of the Year by Vintage Guitar Magazine, placing them alongside legends such as Jeff Beck, Joe Bonamassa, David Gilmour of Pink Floyd, and Sonny Landreth.
The band's 2013 masterpiece, "This, That & The Other Thing," resonated deeply with audiences across North America, gracing the airwaves with its infectious tunes and earning them the prestigious Blues411's Jimi Award for Contemporary Album of the Year. Furthermore, it held its ground for months at the zenith of Relix Magazine's Jambands.com chart, a testament to the band's unrivaled artistry.
At the helm of The Rusty Wright Band, we find the incomparable Rusty Wright himself—a musical virtuoso who effortlessly weaves tales of love, loss, and life's enigmatic mysteries through his masterful lyricism. Not confined to a singular role, Wright's prodigious talents extend beyond his poetic pen. He reigns supreme as a vocalist, multi-instrumentalist, and producer, casting his creative vision across every facet of the band's work. Such is his mastery that he is often called upon to serve as a "celebrity counselor" for Rock-n-Roll Fantasy Camps, an honor bestowed only upon the most revered figures in the music industry.
To encapsulate the essence of The Rusty Wright Band's sound is akin to capturing lightning in a bottle. Their music is a scorching blend of Texas-style blues, the infectious swing of boogie, and the raw power of Southern guitar rock. It is the result of decades spent by Rusty Wright honing his craft, traversing the realms of writing, recording, performing, and touring, that has elevated Wright's status as one of the blues rock scene's most esteemed guitarists and songwriters. His guitar strings are an extension of his soul, transmitting electric currents of emotion with every flicker of his nimble fingers.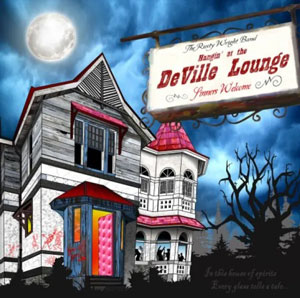 Now, prepare yourself to be engulfed in the inferno of musical brilliance as The Rusty Wright Band unleashes their latest masterpiece, "Hangin' At The DeVille Lounge." This incendiary blues-rock album is more than a collection of songs—it is a relentless surge of ambition and passion that ignites the senses from the very first note. Each track on the 12-track record pulsates with a fiery intensity, delivering gritty guitars and muscular blues stylings that will leave you breathless.
The album's tracklist reads like a roadmap to the heart and soul of the blues. From the spoken-word opener, "Welcome To The DeVille Lounge," to the explosive tracks "House Of Spirits," "No One Cares At All," "Evil In Disguise," and "Devil Man Blues," The Rusty Wright Band creates an irresistible fusion of Southern rock and smoldering blues that transcends boundaries and defies categorization.
The journey continues as Rusty Wright takes us on a relentless exploration of the human experience. "No Man Is An Island" delves deep into the interconnectedness of our existence, while "Goin To Nola" transports us to the vibrant streets of New Orleans, where the spirit of blues pulsates through the air. With "Devil In The Details," the band unveils the allure of temptation and the intricate dance between light and darkness.
As we delve further into the album, "Troubles Always Knockin'" resonates with its gritty realism, capturing the struggles we all face in our daily lives. Yet, in true Rusty Wright fashion, there is an undercurrent of resilience and hope that pervades each lyric and guitar riff. Rusty Wright boldly declares that there is "No Turnin' Back" on the odyssey of trying to win over a woman's love, embracing the challenges head-on with unwavering determination.
Time is a precious commodity, and The Rusty Wright Band reminds us of this truth with "Burnin' Precious Time." The track serves as a poignant reminder to seize the moments that ignite our passions and fuel our souls. And finally, "Devil Music" brings the album to a climactic close, leaving an indelible mark on our hearts and minds with its searing intensity and captivating artistry.
Thematically darker than their previous works, "Hangin' At The DeVille Lounge" delves fearlessly into the shadows, unearthing a treasure trove of emotions, rhythms, and tones meant to leave a lasting impression. Rusty Wright and his bandmates have crafted a sonic tapestry that immerses listeners in a realm where raw vulnerability intertwines with unbridled power.
It is within this musical landscape that The Rusty Wright Band shines brightest. Their music is not just a passive experience; it is an invitation to be swept away in a whirlwind of sound and emotion. Wright's commanding guitar prowess harmonizes flawlessly with the searing, soulful tones of his voice, creating a sonic union that transcends the ordinary.
With "Hangin' At The DeVille Lounge," The Rusty Wright Band reaffirms their status as torchbearers of the blues-rock genre. They have harnessed the flames of passion and sculpted them into an album that blazes with unrelenting fervor. It is an opus that demands to be heard, felt, and experienced.
So prepare yourselves for an electrifying journey through the depths of blues and the heights of rock. The Rusty Wright Band awaits, ready to ignite your spirit, captivate your senses, and leave an indelible imprint on your musical soul. Embrace the fire, surrender to the rhythm, and let "Hangin' At The DeVille Lounge" be the soundtrack to your own transformative voyage."
OFFICIAL LINKS:
https://rustywrightband.com
https://www.facebook.com/RustyWrightBand
https://www.youtube.com/@RustyWrightBandofficial