Needles Fisher should really be shining brighter than most of his contemporaries. Based out of South Jersey, and mostly known for his solo work under his real name Samir Issa, he has been working quietly on the project "Everybody Likes Needles Fisher" for about a year. The whole album bleeds into one magnificent potpourri of rhythm, vibe and groove, thanks in part to some incredibly short track times, but also to the nature of the music itself. The lines between jazz, soul, R&B and hip-hop are blurred almost beyond distinction, encouraging you to hear it as a whole and revel in its dizzying ambiance.
Needles Fisher grabs his throbbing beats, and bathes them in a variety of sounds, samples and loops, building an impressive series of tracks. When it comes to understanding the producer's musical output, the proof is in the process. Needles Fisher forges his style out of whirring parts and deft designs. He brings an organic aura to the recursive rhythms of hip-hop, in a way that fosters interplay between the instrumentation and vocal interludes.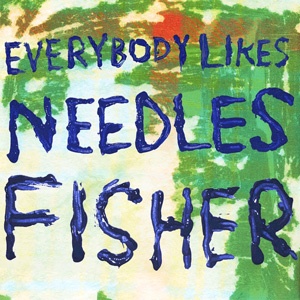 Needles Fisher radiant new offering, confirms that he's moved well past the proof-of-concept phase — showing that it's possible to use sonic elements from across the history of music performance and hip-hop production, with a sensitive hand that masks an obsessive attention to detail.  From the moment the album opens with the ear-warming triad of tracks – "Curtis", "Love Me" and "Stay Together", its clear that this is a fully finished project.
Needles Fisher marshals a total of 12 tracks in a sonic tapestry that shimmers as it flows. Here is a self-contained musical world brimming with rhythmic complexity and dynamic variability, but approachable from every angle. "Corner of Stone" throbs with head-nodding urgency, "Marvin The Martian" adds luscious layers of sweeping pads and skittering percussion, while "Cindy" has a funky retro flavor.
Needles Fisher surrounds the beat with a captivating swirl on "April Fools", moving voices and elements in and out of the mix in a way that invokes familiar sounds while alchemizing a new brew. "Kill The Kill" runs on a arpeggiating keyboard motif, while "Deserve" warps it's crate-digging vocals over a slapping beat. "Porto" infuses Latino flavored elements, which take on a jazzier feel on "Desafinado", before "Secret People ft. Samir Issa brings in some rapping and spoken word essences.
Before you listen to "Everybody Likes Needles Fisher", you really should leave all preconceptions at the door. This is a joyous affair. It is an album that is warm, exhilarating, and incredibly uplifting. Not a single second of this recording feels wasted, and you never once find yourself wishing for one a section to end and another to begin. The sounds here, swarm around your ears creating many moments of sheer pleasure.
This is an album that pays close attention to detail, and asks that you pay it close attention in return, to get the full experience. Each song on "Everybody Likes Needles Fisher" has its own concise concept, and every note is dedicated to this concept, carrying the mood from start to finish with no deviation. Moreover, what ultimately makes this a great album is that it sounds fantastic.
OFFICIAL LINKS: www.instagram/samirissa