MoonLee is a versatile artist based out of Long Island, New York. His moniker is a reclamation of something dark and personal, which he has translated to something vibrant and symbolic, derived from his desire to attain the versatility of the moon. To me, his 'YUH' track is a criminally underrated project. The experimental beat and turnt vibe, is what introduced me to the name MoonLee. Now on his latest single, "Leave", he not only improves on the ideas presented on the previous cut, but he's able to completely flip the script and make you feel something through both spitting bars and soaring emotional melodies. MoonLee's influences are clear throughout "Leave", but don't take that as him jocking someone's sound, because this is all his own vibe.
The production on "Leave" is lush, catchy, and transports you to instant banging bliss. It hits you right in the feels from the outset, and let's you know what's in store moving forward. The track has skittering percussion with a killer bassline and hook, and immediately shows off MoonLee's ability to stretch out his vocals. Despite the afflictive lyrics, it is upbeat and inspires you to move no matter what you're in the middle of doing. Simply put, it bangs.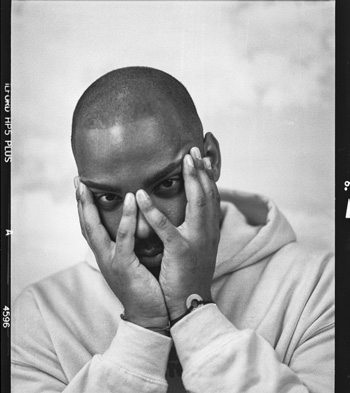 I think this is also where MoonLee really let's his songwriting chops shine. There is something so nostalgic, pure and emotive about this song, as he unfolds the honest and straight-to-the-point lyrics. In a time when almost everything feels uncertain, the music of Long Island indie artist MoonLee, breaks through the haze and cuts straight to the feeling. This incredibly immersive single brings a bright and warm wave of banging blend of pop and hip-hop music that is overflowing with sonic fire.
MoonLee's sound is mainly characterized by a commitment to a bright, electronic driven instrumental and his charmingly versatile vocals, which have a captivating quality to them. Above all else, his music feels urgent and vibrant, reflecting a self-empowered positivity ready to tackle everything that comes his way. "Leave" hones in on these qualities in an expansive, euphoric arrangement that dials up emotional exuberance.
Throughout "Leave", the vocal and production combinations elevate the intoxicating pop melody to its fullest potential. MoonLee's vocal delivery is so fascinatingly resonant and pure of heart that it's entrancing – shattering all intentions to box the song into any one single genre. He channels simple heartfelt feelings into evocative verses and hooks, while the music builds upon bustling chords and rumbling basslines, confirming the mantra of MoonLee's artistic validation.
The driving pop energy of "Leave" fully transports listeners into MoonLee's headspace where he unpacks both his doubts and certainties about sentimental intricacies. Even though it reeks of a breakup song, it is delivered with an undeniably uplifting edge, sounding so sincere that you are inclined to believe his side of the story. The song's opening line is one of its most memorable, and highly indicative of what is to follow: "I fell in love with a demon…"
MoonLee is an artist who has an incredible amount of potential and has already proven with the release of "Leave" that he can make hit sounding records.  MoonLee has leveled up real quick, his intuition and skill will soon be charting a course towards the next level of success!
OFFICIAL LINKS:
https://www.instagram.com/moonlee1_/?hl=en
https://m.facebook.com/TheRealMoonlee
https://open.spotify.com/artist/0s2dPNIkxdx6EuGN9g5xy3
https://music.apple.com/us/artist/moonlee/1460048613
https://m.soundcloud.com/moonlee1