MAQ is the moniker of film composer Ilya Truskovsky, who lives in Los Angeles. A graduate from the prestigious Russian Academy of Music in Moscow and a film-scoring program at the University of Southern California, MAQ began his career as an artist and a co-founder of Deja Vu Records in 2002, resulting in many successful releases, including two award-winning albums. In 2022 he has decided to diversify his creativity towards the EDM world, and the single "Catch-22" is the first in series of many tracks that are scheduled for release in the near future. With this single release, MAQ highlights his incredible production abilities. The sheer quality of the record is incredible, super punchy and the sonic details are marvelous.
In true MAQ fashion, the track features cinematic subtle elements, as well as a sonic storyline. All of which sit above the momentum pushing drums twisting synths and throbbing bassline.  MAQ's music is as rich, as subtle, and as awe-inspiring as anyone else in the past decades of electronic music. He is that rare talent, a studio guru with an accessible sound. Everything about "Catch-22" is larger than life, from its epic atmosphere to the way its echoey synth leads hover precariously over the mix.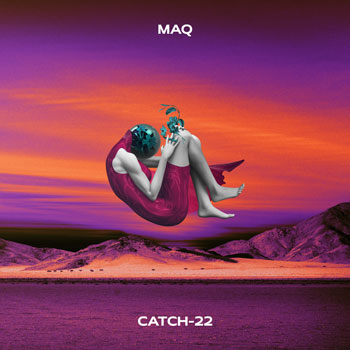 As the world struggles through yet another year of pandemic issues, "Catch-22" is the type of song that can distract and soothe listeners, bringing solace during these grey days. The rise of electronica will largely be remembered for its extremes—the persistent, acid-fueled pulse of club beats, and the zoned-out bliss and inertia of ambient music. MAQ delicately places himself in the middle of these aesthetics, by grabbing the best of both worlds and blending it into something mesmerizing.
MAQ knows his way around a well-crafted groove and an intoxicating sonic aura. He is able to weave together instruments, vibes, and poignant arrangements to intricate and sumptuous ends, as can be testified by "Catch-22". It's a song that's as comfortable with the artful flair of the bass and kick drum, as it is with the expansive and spacy keyboard textures. MAQ pivots perfectly between the rhythm and the ever-changing tones, but never disrupts the undercurrent of the track.
There are, of course, recurrent rhythmic patterns, but there is always a new texture, a new articulation. Something that keeps "Catch-22" from feeling dull and repetitive. There is a pervasive sense of pulse and breath igniting the record, which is a testament to his prowess as a producer. The composition feels whole, completed, and seemingly endlessly expressive. It is startling to see an artist so clearly superlative in the midst of their work.
Within an overwhelming horde of mediocre EDM party jockeys, "Catch-22" is a rich and sophisticated release from a musician at the very top of his game. It sounds like EDM music has always been in MAQ's blood, infusing his vibrantly kaleidoscopic songwriting, and "Catch-22" proves beyond doubt that he can successfully go that route if he wants to. It's a track heavily built on futuristic electronic elements, yet it sounds remarkably human.
OFFICIAL LINKS:
Website: https://maqofficial.com
Instagram: @itruskovski
Facebook: https://www.facebook.com/maqdj