LA Rock band Lunarcode release their debut album 'Stories Untold'. An eclectic mix of tracks that showcase the bands classic rock sound mixed with lighter Pop and even some Reggae vibes. Having already caught the eye of Orange amps bringing the band on for an endorsement deal, their highly anticipated upcoming album is one not to be missed.
'Stories Untold' is based around personal empowerment, self-discovery and combating narcissism. The album blends genres throughout while keeping to the bands classic rock roots, this can be heard from the lead single 'The Light' which fuses Rock and Raggae, to 'Cuttin' the Cord' and 'Parasite' that venture more to the Pop side of Rock. The seven-track album promises listeners a varied mix of themes and sounds throughout while keeping to the formula of high-octane tracks, infectious chorus' and powerful vocal performances that won't be out of place in any stadium show or festival.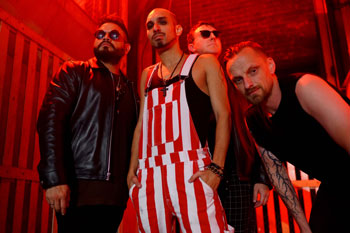 As the name suggests Lunarcode takes inspiration from the moon, the band discuss this influence further.  "The album artwork we chose is the first photo of the moon ever taken. We thought it was symbolic since this is our first album ever released and Lunarcode was inspired by the moon and its beauty and influence on us as humans and our emotions. When you think about how far we have come in the evolution of photography, art, and sound, it really has changed a lot. This is our first album, and we too will evolve and grow as time passes."

Lunarcode was formed in the summer of 2020 during the Covid-19 pandemic between guitarist Ronny Minuche, Vocalist and Lyricist Vincenzo Carubia, and drummer Jason Booth, with the newest addition Richard Smith rounding out the lineup on bass. The band has to date recorded 7 tracks in the studio with producers Neil Engle and Sahaj Ticotin. Since then they have garnered over 80 awards including Best Band in April and June through music video underground festival and Best Rock Band through the Tracks Music Awards for their single "Heartbreak". Many of these awards have come from their cinematic music videos, adding a visual aspect of their art that complements the band's musical abilities.
With the release of 'Stories Untold' along with a plethora of shows lined up throughout the year, Lunarcode are just getting started.