Saxophonist, guitarist, pianist, drummer and hip-hop artist, Jim.E.Watts is an all-round musician who has been writing and producing music since his early teens. Artists such as Andre 3000, Lauryn Hill, Eyrka Badu, Drake, Kendrick Lamar, Eminem, Prince, Jamiroquai and Sade, influence the talented creative who grew up in Detroit Michigan. Jim.E.Watts really brought a new mesh of sound to the table with his 11-track album "L.I.E." (Life Is Easy), and will surely blow up as a result. He really is one of those special talented artists with the ear for quality productions and sound, from whom you can always expect to bring it. Many artists have fascinating and emotional life stories, but few incorporate their experiences with such scrupulous honesty and heartfelt conviction as Jim.E.Watts.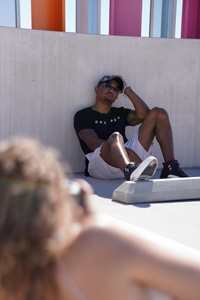 The album's slick combination of R&B and hip-hop alongside ambient pop and neo-soul-tinged flavors, already make for an original sounding record, but Jim.E.Watts still manages to find his own personal niche with the sheer presence of his songwriting.  His voice alternates between silky soulful smooth to rhapsodic, carrying both the pains and tribulations of his life with the glorious sweetness that has carried him through it.
Equal parts memorable and expansive, genuine and humble, "L.I.E." (Life Is Easy) builds captivating soundscapes and intriguing melodies. All throughout, Jim.E.Watts takes special care to keep his soundscape broad, not only in influence, but in scope.
It allows him to create a cyclone of musical flavors and vocal deliveries. Jim.E.Watts does a number of different things on this recording, and it is all exceptional. Kicking off with the opener, "L.I.E (Intro)" which quickly sets the luscious instrumental temperament, before morphing into the head-nodding groove of "L.I.E".
"Dreamland" ft. Question Man brings a mellifluous tone with rolling pianos, and kinetic percussion. On top, the vocal deliveries deliver layered counter-harmonies to mesmerizing effect. This is followed by "Connection" ft. Grace, which again showcases elegant piano lines, subtle but steady percussion, and a hypnotic vocal performance from Jim.E.Watts.
"Curbside" sees the artist effortlessly slide back and forth between crooning and rapping. "To Be Real" ft. Tombstone Chuck is another testament of Jim.E.Watts' knack for complex yet easy on the ear melodies, supported by groove-inducing soundscapes.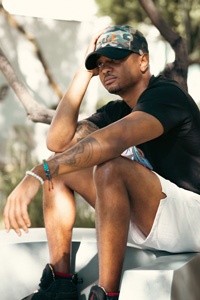 Jim.E.Watts has the ear, the songwriting charisma, and the distinct voice to pull off ambitious songs like "You Say" ft. Jorie, which echoes a repeating melody that transfixes the listener. Jim.E.Watts' smoothly soulful voice floats over a precisely arranged instrumental on "Hydroplaning" that we've by this time come to expect from the multi-talented artist. The beat slaps on the mid-tempo beat of "E.O.D" with Jim.E.Watts in total control on the vocals. His delivery becomes even more urgent and communicative on "Troubled Christian" ft. Mic Bminor.
Regardless if you can get down with Jim.E.Watts style or not, his ability as a pure musician and songwriter is indisputable, and the album closer "Lost Angel" is a prime example of this. The keyboards and the arranging, is top tier here. The song delivers on every level.
Overall, Jim.E.Watts highlights his skills on this album, which is musically expansive and conceptually rich. Jim.E.Watts talents as a singer, rapper, musician and producer are on full display. "L.I.E." (Life Is Easy) excels largely because of its living, breathing compositions, which thrive on vibrant productions and exquisite melodies.
OFFICIAL LINKS: https://www.instagram.com/jim_e_watts