The brainchild of Andy Paynes and Alan Medeiros, the 6-piece German rock band, Dream Legacy, also comprises of members John Zell, Ryan Zell, Ebo Hösch and renowned vocalist André Carswell. The band strikes a great balance between softer moments, and more crunchy upbeat tunes. Furthermore, they write melodies that are among the most haunting and memorable of the year. Dream Legacy pride themselves on their compositional mastery and subtlety, and it is these nuances that make for a very entertaining listen as they bring together classic vintage rock sounds with modernized progressive flavors. They have so far released 4 singles from their upcoming album, 'Once in A Lifetime', due out this year. Each of the songs utilize the band's penchant for lush instrumentation to full effect, often creating moods and atmospheres that build into goose-bump-raising climaxes.
Dream Legacy's epic compositions, like 'The End of the World' unfurl like erupting flares arcing into space, and pulse-quickening rhythms overlaid with the bustling sounds of overdriven guitars. It offers a rich cavalry charge of powerful momentum, held together by the anthemic vocals. The amplifier-busting riffs will probably cause a spike in your electricity bill. The fact is, this is the first rock track for a long time that feels like it contains some genuine rock n' roll magic.
Sometimes Dream Legacy are able to impress listeners with their technical abilities, and hard driving rock grit, while at other times, they are able to delight us with some strong melodies and soaring vocals. On 'Feel the Love' they are capable of doing both.
It's heavy, it's melodic, it's technical and it's sophisticated. 'Feel the Love' has a beautifully authoritative sound, with excellent separation between the instruments. It allows the heavy parts to punch hard, whilst giving space for the individual instruments to work their charms.
The pride of the pack is without doubt 'Really Loving You'. It begins in a quietly poignant fashion, offering respite from the frenetic energy of the previous two tracks. As the song develops, it becomes clear that it is one of the more sweeping tracks, in the Dream Legacy cannon. It features all of the band's lyrical and musical flamboyance. The song is smartly compounded with a strong, melodious lead vocal that just gets more and more powerful each time you listen.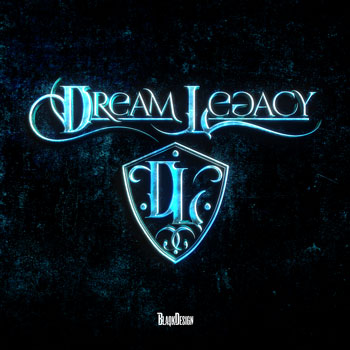 On 'Really Loving You', airy synth pads blend with clean jangling guitars and rich vocal harmonies, in a slow and winding composition that steadily draws the listener in.  The song literally sways from one mesmeric moment to another.
The all-embracing arrangement deserves every single minute of its runtime. The latest single, 'Set Me Free' encompasses all Dream Legacy are about, from scintillating guitar riffs to classic rock vocals that will leave you both astounded and mesmerized.
'Set Me Free' flies out of the traps with a barrage of drums, heavy bass and driving guitars. The lead vocals are immense and when the chorus hits they really shine with a soaring melodic tone that is amazing. The guitars and rhythmic combos on the track are brilliant and they play off one and other to great effect. The single presents a masterful mixture of musical virtuosity, emotion and rock n' roll grit.
Taken together, these 4 tracks forge an all-encompassing listening experience, covering the full spectrum of vibes, from adrenalized guitar riffs to contemplative musical sequences, like a genuine epic rock band should. Brilliant things are bound to come if Dream Legacy can maintain this forceful and convincing trajectory towards the release of their upcoming album.
OFFICIAL LINKS:
Instagram: https://www.instagram.com/dreamlegacy9/
Facebook: https://www.facebook.com/dreamlegacy/
Spotify: https://open.spotify.com/artist/7dfsPVuAb8rYz7Nxx3TQLs?si=xrP25zYXSAi0M1NE-Pjcgw
YouTube: https://www.youtube.com/results?search_query=dream+legacy