Deja Nicole is a mixed R&B singer, songwriter and dancer, born in Hampton and raised in Newport News, Virginia. Deja was involved in her church and school choir, as well as talent shows throughout her school age years. Inspired by her idol Alicia Keys, and her passion to pursue music, she has been releasing tracks and grinding her way towards her latest EP project "Love Lost, Money Talks" is available on all major platforms from August 26th.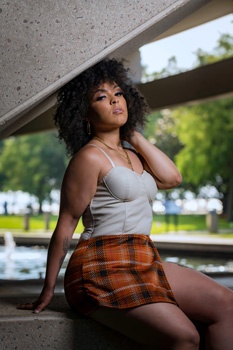 This recording puts Deja Nicole into an elite tier of R&B artists who are able to balance intimate narratives and artistic execution. She pulls no punches, commanding attention through her ability to integrate emotional drama into her tracks through beautiful, sensitive storytelling, and lusciously layered instrumentals.
Throughout "Love Lost, Money Talks", Deja Nicole reminds listeners of the humanity underneath the stories she peddles, turning them into relatable tracks that resonate for anyone seeking to elaborate the intricacies of sentimental relationships. As we possess the preview version of the EP, our running order may not be the same as the official release, but we instantly dug our ears into the track "Loyalty".
The song opens with a poignant piano intro and a sweet adlib hum from songstress Deja Nicole. She instantly sets a sultry and soulful mood as the track expands in atmosphere and mood. Mainly fed by a superb sequence of layered backing vocals, which admirably support the lead voice throughout the song. Deja's vocals are just as elastically capable as those of her R&B peers, but through her smooth runs exists a glacial directness in her delivery, which cuts straight to the core of her lyrics.
"Leave Me Alone" rides in on a shimmering guitar and the quivering vibrato of Deja Nicole's vocals. The production remains, for the most part, comfortable in a downtempo murkiness while the jangle of the six-string strum adds a delicious harmonic backbone to the recording. All of which still leaves plenty of space for Deja to give us another addictive slice of her silky vocal cords. The warm ambience of the melody is buttery smooth.
One of the first jewels in the crown of this collection of tracks is the incredible "It Could Be Simple" ft. Nick Holmes.  It is a testament to Deja Nicole's sharp-tongued soulfulness, which plays off beautifully against the rhymes laid down by Nick Holmes. It is this type of contemplative song, which often provides the hardest emotional punch as Deja unpacks her desire for transparency, in a slow-burning, call-to-action anthem.
"Best Love" is audacious in its realness. "Self-love is the best love," sings Deja Nicole, as she explores the downside of a relationship with another person. Baring it down to the bone, she brings her blunt honesty to the fore with unmistakably transparent lyrics. This is top-tier confessional R&B. The soft, yet addictive vocals on this beautifully put together track allows the vocal and the music to swim in harmony. It's simply magnificent.
"Mental Breakdown" ft. John Dawson instantly creates create goosebumps and a floating sensation before the beat kicks in, and Deja Nicole starts unraveling the all too familiar narrative of recurring doubts, endless excuses, and deceitful communication, which eventually wear down relationships, and uncover alternative truths. The silky vocals mixed with clean-cut production is just perfect for any listener who needs to get into the vibe here.
"Fade" ft. Dasia comes with a bouncing, head-nodding beat and skittering hi-hats. On top, Deja Nicole flows as smooth as honey, juxtaposing her mellifluous pipes with the rapped rhymes. It's everything any modern R&B listener could be wanting. Deja Nicole is one of the more dynamic artists in her genre today, with a sugary sweet voice that captivates ears and hypnotizes listeners. That, added to the naked honesty in her words, packs real soul into "Love Lost, Money Talks".
OFFICIAL LINKS:
IG: https://instagram.com/itsmedejanicole?igshid=YmMyMTA2M2Y=
YouTube: https://youtube.com/channel/UCuA-y8Bx0f70Qb_K-q4KB_A
Apple Music: https://music.apple.com/us/artist/deja-nicole/1524836036
Spotify: https://open.spotify.com/artist/2F5ehBvr2kX1kkteVabZqq?si=dbk6cTVZT4aUokOQw4S8JQ
EP Link (Live August 26): http://itunes.apple.com/album/id/1638149070