Davey C is a multi-instrumentalist singer-songwriter from the UK. On his debut album, "White Light" – released the 3rd of September – he blends an eclectic mix of rock, funk, rap and traces of metal. Davey C has been playing and writing music since he was fourteen. What makes him so unique is that, despite his musical variety, Davey C's sound is always so easily recognizable. It can be incredibly difficult to maintain an identity when juggling so many styles around, but he does so with absurd ease across this entire album. Part of his distinguishing qualities has to be found in his powerful high-pitched voice, and the jangling guitars, which drive most of these songs.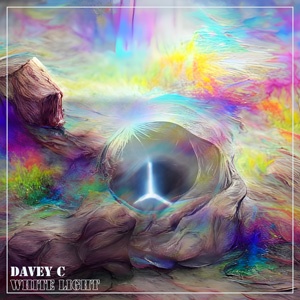 From front to back, "White Light" is definitely a consistent and engaging work. No matter what tempo or style a song is set in, Davey C is always doing something interesting with the material. In particular the way some of the basslines are played here almost makes it sound like another lead instrument among the otherwise dominating guitars. Combined with the guitars and drums, the bass gives the music a bit more groove and bottom-end crunch. The effect is truly intoxicating.
Of course, who will be able to forget the one element that brings everything together, Davey C's vocals. Not only can this guy sing, but he can carve out the most unusual and complex melodies. Things get off to a bright start with resonant piano chords, rolling basslines and a racy rhythm driving "A World For Sale". Then it's on to the jangling strum and compelling Jamiroquai-styled vocals on the title track, "White Light". Davey C also finds time to unpack a fiery guitar solo here.
Things move forward urgently with the funky slap and bang of "Falling Fields", before surrendering to the sweeping epic soundscape of "Lies".  Both of these songs feature soaring vocals and ear-warming melodies. "Play it By Ear" is reminiscent of the best version of The Red Hot Chili Peppers. "Clones" again highlights Davey C's blistering guitar interludes, and bone crushing riffs.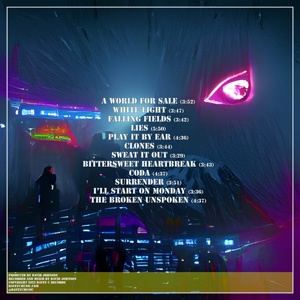 On "Sweat It Out" Davey C shifts into early Maroon 5 mode – melodic and edgy, with soul-stirring vocal extensions, while the basslines are superbly sublime, and the primary reason why I love this song. "Bittersweet Heartbreak", while slightly slowing down the mood, still maintains the album's momentum and its intensity. "Coda" jumps right out of sound system, pushed by the usual exquisite bass work, the slapping beat, and Davey C's high-flying vocals.
There are enough catchy melodies and hooks on this album, to keep you coming back for more. And when Davey C puts on his Red Hot Chili Peppers hat – raps and all – as he does on "Surrender", he is totally unstoppable. This song builds from a solid groove into an explosive rocker by the time it reaches the end. This is an interesting album just because Davey C tries so many different things. "I'll Start On Monday" is another smooth and easy-on-the-ear groove driven by the distinctive jangling guitars.
The album closes on a mellifluous and more downtempo note, with sweeping clean guitars and Davey C's engaging high register voice dominating the arrangement. You probably won't find another artist quite like Davy C right now. It's clear that he has a masterful song writing talent which does not use the every-day building-blocks of his contemporaries. Moreover, the organic instrumentation gives the record a feeling of timelessness that will keep it memorable for years to come.
Beautifully melodic and instrumentally fascinating, in a time of cloned and copied electronica, puts "White Light" and Davey C in a lane of his own. Both nostalgic, and of the moment, there is much to love here, if you're looking for something authentic.
OFFICIAL LINKS:
https://www.youtube.com/channel/UCK6pev8s5i9UlMPwDJlovdQ
https://www.facebook.com/daveycmusic/
https://soundcloud.com/davey-c-music
https://www.daveycmusic.com/
https://twitter.com/daveycmusic
https://twitter.com/daveycmusic