Nothing is forever, and that reality scares us and unsettles us, leaving us feeling hopeless, especially when losing a friend, spouse, a parent, a child or any loved one. Everyone on this planet has, or will have to, experience loss at some point in their life. But even in loss, we can find hope, inspiration, and love, born from pain and suffering. Songs about death can often help us cope with the challenges of losing someone by letting us know we're not alone. Most people assume that they'll die before their children. Unfortunately, that's not always the case, and in the song "Forever In My Heart", songwriter Dawn Wilkinson unfolds the experience and feelings of losing her youngest son Ben Wilkinson.
While we can't bring a deceased loved one back to life, we can carry their memories with us throughout our lives. "Forever In My Heart", is a heartfelt narrative, poignantly interpreted by the soulful and nuanced voice of Daisy Ellis, whose father Simon Ellis, produced the song. Ellis is a renowned producer having worked with the likes of  the Spice Girls, Britney Spears, Westlife, S Club 7, and East 17, among others.
Articulated, expressive and honest Dawn Wilkinson's lyric sheet for "Forever In My Heart" lays a foundation for a heartrending, but never overwhelming performance, from Daisy Ellis. It would be easy for a lesser singer, to fall prey to the emotional sentiments expressed by Dawn Wilkinson's words, and over-sing the verses. Ellis however uses all of her artistic acumen, holding back when she needs to and letting go when she has. As such, her vocal tones are deeply affecting but never morbidly so.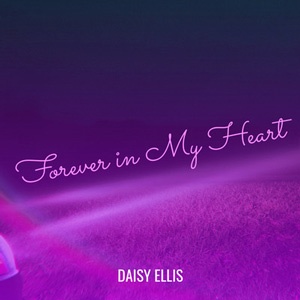 "I yearn for you. I cry for you. I wonder where you are. I feel you near, so close to me, and I'm beneath your shining star. I see your face. I see your smile. I hear you laugh and play," unfold the opening lines to "Forever In My Heart". Daisy Ellis' voice is pristine and precise. Each note is measured and nuanced, carrying the narrative through its varying sentiments. "If I could do most anything, it would be to turn back time. To have you here with me again," sings Ellis, again capturing the essential essence of the lines.
The music is just as thoughtful and beautifully executed. The resonant pianos and sweeping strings, along with the rest of the ensemble steadily build and expand to create waves of sonic emotion, and a more than appropriate canvas for Daisy Ellis' voice.
The entire orchestrated arrangement is in fact, spotless, at times even awe-inspiring, in its timbral and tonal precision. But with a producer of Simon Ellis' caliber at the production helm, you would not expect anything less.
The experience of losing someone dear to us can be difficult to express through words alone. Music transcends this limitation, providing an outlet through which we can remember and honor the memory of our departed loved ones.
Dawn Wilkinson, with the support of Daisy and Simon Ellis, has achieved just that, with "Forever In My Heart". "I wrote this song with the idea it would all be for charity and a way for Ben to be remembered as I didn't want his short life to have meant nothing," explained Dawn Wilkinson. Reminding us that all proceeds from the song are going to charity.
OFFICIAL LINKS:
https://www.reverbnation.com/dawnwilkinson
http://itunes.apple.com/album/id/1654436094
http://open.spotify.com/album/0jMFY7F0N9ZHXex7sdRdez