A fresh Air Force BMT graduate, BlackJacketBoys, aka BJB, has been producing music since 2017 and mainly works with dubstep and trap. He recently dropped the single "Wendigo" ft. HY22, which will feature on his upcoming album, "Sellout", set for a 2023 release. The eclectic producer has been putting out music so consistently over the last year that his impressive 2022 body of work amounts to a series super quality singles that cover a vast amount of ground. In his concise catalog, listeners are presented with a combination of surreal dubstep innovations, booming trap bangers, sweeping cinematic styled arrangements, and ear catching tunes. Each song easily stands apart from the tracks they sit next to while maintaining the composure and originality found in BlackJacketBoys' music.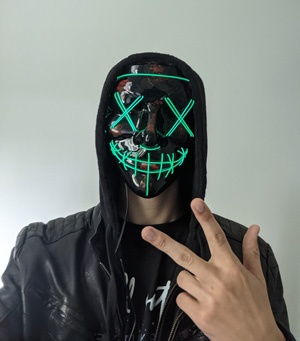 The single, "Wendigo" ft. HY22, stands out even further from the rest, with the vocal feature adding an extra dimension to BlackJacketBoys' banging beat. The track opens with an eerie keyboard-driven soundscape, which blends into resonant basslines, mixed with trap-styled hi-hats firing away in rapid succession. The kick drum thumps in the underbelly as HY22 drops his melodically twisted verses.
"Wendigo" ft. HY22 contains hybrid qualities fused together unveiling not only BlackJacketBoys' creativity, but brilliant taste in order to smash these sounds in a pristine and stimulating way.
The energy the producer injects into this piece sprouts off the speakers, runs through the listener's body and forms goosebumps on the back of the neck. Conjuring a slow-burning groove, this is the type of track that is destined to play a huge role in any epic live sets.
On the mic, HY22 is invested in constantly changing up his flow, experimenting with his vocal ideas, and making rap verses that has pop appeal but doesn't sound like throwaway pop. Often explicit and always mesmerizing, HY22's rhymes are easily assimilated, while proving that he can be both an intense and hooky lyricist.  "Wendigo" affirms that HY22's rapping and BlackJacketBoys' production are both inventive and hypnotic.
Trap, which is hip-hop's most popular subgenre, is categorized largely by the use of synthesized drums, 808's and minimal use of other instruments. Today, as trap has become oversaturated, it's hard to sift through most of the commercial content that is rolled out to find the quality sounds.
The diversity among BlackJacketBoys' influences creates an experience that subtly bends and blends varied stylings into his trap productions, which set him apart from the pack.
Artists who attack their craft with such fearlessness and attention to production have the ability to create extraordinary projects. BlackJacketBoys' production is particularly on display in "Wendigo" ft. HY22.
This beat is a piece of BlackJacketBoys, a look into his influence, his love of trap, electronics and melodies, his ear for production and his desire to prove himself. What is most compelling about this song is that both BlackJacketBoys and HY22 are on par with their peers, and sometimes even better.
"Wendigo" ft. HY22 sounds like the beginning of BlackJacketBoys journey to the top of the production and beatmaker's game. This song has given him a chance to mature in his craft and simultaneously extend his work with features. It presents him as a creative force that cannot be stopped, and we couldn't be more excited to see what else lies ahead for the prolific producer.
OFFICIAL LINKS:
www.blackjacketboys.com
Instragram @bjbproducerofficial
YouTube: https://youtube.com/channel/UCgQ7VpbecYSVpxzOXqUiwAQ