Fuji4k and Zour are two independent artists that came together to form a collective known as LonelyWorld and they decided to release "Actin Up" as their debut track. They were joined by a third member, known as KMC. This interview gives us a clear insight into what makes LonelyWorld who they are, and do what they do.
How did the collaboration between Fuji4k and Zour come about to form the rap collective LonelyWorld?

Fuji4k: We both have been wanting to rap for a long time, we knew we'd make some fire shit together. I made a snippet & Zour hopped on it which became "Actin Up"
Zour: Fuji4k and I have known each other since elementary school and grew up heavily influenced by music. It lead to us building a studio and releasing our debut track "Actin Up" in 2023.
What inspired the decision to release "Actin Up" as LonelyWorld's debut track?

Fuji4k: It was the first song we made together that we liked so we got people's opinions before we dropped it, which were mostly positive. People were vibing with it. We wanted to surprise everyone & just drop something.
Zour: One day Fuji4k sent me his verse that he wrote for "Actin Up" and I liked the beat so I decided to write something to it which lead to me getting in the studio.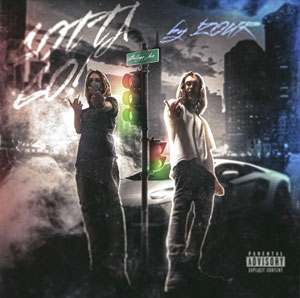 Can you tell us more about Fuji4k and Zour as individual artists before joining forces in LonelyWorld?
Fuji4k: I've been into rap since I was 4 years old. My father use to play old southern trap like Plies, Gucci Mane, TI, 2 Chains, future, & others. As well as that hard NY sound like DMX, Mobb Deep, and that new trap scene like Young Thug & Migos. My mom would play alot of Lauren Hill & RnB. My brother & my cousin Nick (shoutout his brand: mayntick "Stay Divine") got me into a lot of experimental music like Odd Future, Mac Miller, Earl Sweatshirt, etc. I even got in to some horrorcore & as I got older, I got in to different sounds like Lil Peep, RCB, and GothboiClique which all influenced me as well as my sound. I love music, I just want to communicate what I'm going through and the shit I've lived with, something people can relate to but also turn up to.
Zour: "LonelyWorld™" started as a music collective geared towards us releasing songs together, but have some solo projects we've been working on and are looking forward to releasing this summer.
What led to the inclusion of KMC into LonelyWorld?

Fuji4k: He is my blood brother and he's dope, he's been rapping longer than me and always encouraged me to rap.
Zour: KMC is Fuji4k's brother and I've known him as long as I've known Fuji4k. He's an awesome guy and we love making music together.
How does the presence of each member in LonelyWorld contribute to the collective's overall dynamic and musicality?

Fuji4k: We each rap differently, have our own ideas, & type of artists we like so we were able to pitch those ideas then mix them up in our recordings and that's what makes us "LonelyWorld™️".
Zour: Fuji4k is the engineer of the group so he does all the behind the scenes work, as well as having a darker grimy tone within his lyrics. KMC has been in the music scene much longer than us so his flows are more developed and has a more upbeat sound to his vocals. In all honesty, I started creating music last and am still looking for my sound. Together all of us utilize each of our skillsets to form our own vibe within our flows.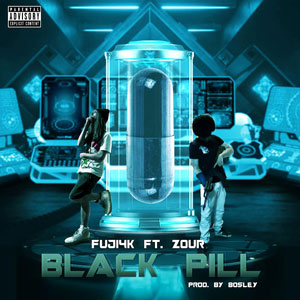 What sets LonelyWorld apart from other rap collectives in terms of their style and sound?

Fuji4k: Authenticity, we're young artists from the middle of nowhere rapping different & hopping on different beats compared to others in our area as well as other artists in general.
Zour: We don't share the same mainstream sound that other artists use, we don't carry ourselves in the same manner that most mainstream collectives do. Our style is unique and goes against the grain compared to what has been normalized in this decade.
Who are some of your biggest musical influences and how have they shaped your artistic vision?

Fuji4k: Lil Peep, Hi-C, Lil Tracy, Nascar Aloe, and Drippin So Pretty are some of my biggest influences. They're some of my favorite artists too.
Zour: My biggest influences in the music scene would have to be Bones, Xavier Wulf, Tyler The Creator, Yung Lean, Bladee, Sematary, Bill $aber, and Lil Yawh. Just to name a few. They have impacted the way I view music which has allowed me to work towards creating my own vision within this music platform.
What are some of the main themes or messages that LonelyWorld explores in its music?
Fuji4k: Drug usage, violence, depression, trying to get rich & put your team on, being alone & having issues with relationships, etc. Things some of our listeners can relate to.
Zour: We mostly share real life experiences that we'd encountered within our lyrics. It's how we are able to connect with listeners in a way that separates us from other artists.
KMC: Experience is a huge part of rap and music in general. You can utilize it to your advantage within your sound & have the ability to connect with your viewers.
How has the internet and platforms like YouTube and Soundcloud helped LonelyWorld?

Fuji4k: They've helped us get our music out there to the public as well as interviewers and others who are interested in helping us spread our message.
Zour: SoundCloud and YouTube have given us the opportunity to reach the most listeners/viewers so far. Without those two platforms, I don't know where we would be with our music right now.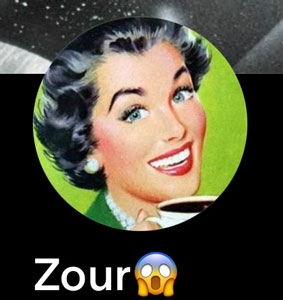 Can fans expect to see LonelyWorld performing live or only listen to recorded music?
Fuji4k: Only recorded music for now, but live in the future.
Zour: So far we haven't planned any live shows but there's always the possibility of us performing live in the near future once we gain a larger audience.
Can you share any details about the creative process behind their latest track, "Ice Cream [LonelyWorld Cypher]"?
Fuji4k: My brother KMC had his verse and the beat down forever ago, so Zour and I asked if we could hop on it which resulted in it being one of our biggest & best tracks so far.
Zour: We invited KMC to get in the studio with us and once he came over he brought up a beat that he had been writing to, so we all took a listen and vibed with what he had to offer. We immediately got to work on a song together and KMC wanted to title it "Ice Cream" so we did. "Ice Cream" officially became our first "LonelyWorld™" Cypher.
Are there any upcoming collaborations or features that LonelyWorld fans can look forward to?
Fuji4k: Collabs with other local artists and producers we like. Definitely features from more artists once we obtain a loyal fanbase.
Zour: In the future there will be more collaborations but nothing is set in stone as of now.
What are some of the challenges that you has faced as up and coming independent artists in the rap scene?
Fuji4k: Learning how to mix, getting equipment working to our liking, and self-promoting our music.
Zour: The biggest challenge for us currently is gathering an audience, we're still working on getting our name out to the public.
West Virginia is not commonly associated with rap and hip-hop. How has your hometown influenced your music and artistic style?
Fuji4k: It hasn't really, we rap different compared to everyone from here. Although, it definitely gets included in our lyrics.
Zour: I consider a lot of the music around here to either be "Lil Peep clones" or "frat rap" for the most part. It's hard to find anyone doing their own thing here. It makes you want to create your own style instead of copying what everyone else is doing.
KMC: Being an up & coming artist out of WV has an impact on my lyrics for sure. You have to find your own sounds, but you can find a lot of others doing the same thing. Rap is almost a foreign object in rural West Virginia, but that there are many emcees trying to revive the style.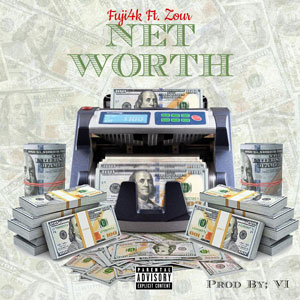 Can you describe the overall vibe or atmosphere that LonelyWorld creates with its music?
Fuji4k: In one word, moody.
Zour: We have our own unique vibe and I think that's part of what makes us "LonelyWorld™".
In what ways does LonelyWorld push the boundaries of rap and hip-hop with their experimental approach?

Fuji4k: We use some crazy samples, beats, & we try to incorporate different flows while staying consistent.
Zour: We use a lot of our own elements in our tracks such as sound effects & obscure samples. It helps us create our own image so people know what to expect from our music.
"Quest" featuring Vertigo was one of your earlier singles. What was it like collaborating with another artist, and what do you enjoy most about collaborative work?

Fuji4k: That's my brother KMC's debut song. We were in the studio with him & Vertigo when they recorded it. "Quest" came out super fire.
Zour: Being in the studio during the creation of "Quest" by KMC featuring Vertigo was an eye opening experience for me and it sparked the passion i have for music. Without that opportunity I don't know if we would have ever started making music as "LonelyWorld™".
What has been the most memorable or rewarding moment in your journey as artists so far?

Fuji4k: Seeing the love we get from our supporters is very rewarding.
Zour: Hitting our first 1,000 views on the "Actin Up" Visualizer was most certainly the most rewarding moment so far. Seeing that many people liking something you're doing for the first time is honestly a surreal feeling. I'm so grateful for everyone.
How do you engage with your audience and create a sense of community around your music?
Fuji4k: We do talk to some of our fans personally and tell them about upcoming releases as well as respond to comments.
Zour: We try to reply to as much feedback as we possibly can. It's important for us to interact with our listeners. Hopefully soon we can start creating merchandise as well as playing live on stage to help engage with our audience.
Looking ahead, what are the collective's long-term goals and aspirations as a group?
Fuji4k: Possibly more members in the future, more music, merch, mainly refining our styles as well as experimenting with new ones. Live shows and collaborations with other artists for sure.
Zour: We want to keep creating music, hopefully get invited to some live events, maybe start a merchandise line, and for sure collaborate with other up and coming artists/producers.
OFFICIAL LINKS:
Zour Instagram: https://instagram.com/lonelyworld_zour?igshid=MmIzYWVlNDQ5Yg==
Fuji4k Instagram: https://instagram.com/lonelyworld_jayy?igshid=MzRlODBiNWFlZA==
Fuji4k Soundcloud: https://on.soundcloud.com/Bkt26apuvZb6DyFf6
Zour Soundcloud: https://m.soundcloud.com/zourfrmlonelyworld
KMC Soundcloud: https://on.soundcloud.com/mLQQyLu3RSTBwjHV6
LonelyWorld YouTube: https://youtube.com/@LonelyWorld304