The Charlie Bucket Project is an independent recording artist who made his solo recording debut in 2021 with the song "Thank You". The heartfelt dream-pop duet love song introduced a singer/songwriter with an easy-going philosophical approach to both music and life. He is a New Jersey native and now Florida resident who works with a small crew of collaborators to create quirky, fun and often insightful lo-fi indie-pop. Since that debut, Charlie Bucket has released a total of four singles, including three originals and his latest, a wonderfully faithful cover of the John Prine & Iris Dement classic, "In Spite of Ourselves." The late-great Prine was the quintessential workingman scholar. His witty, self-effacing humor sits very comfortably beside Charlie Bucket's philosophy as seen through an intentionally Wonka-inspired child-like lens.
In May of last year, Charlie Bucket dropped his second single "grATTITUDE". The fun and funky indie-pop nugget pairs a lo-fi aesthetic with uplifting lyrics and some classic Motown melodies. There's even an extended psychedelic jam in the bridge. Throughout the song the singer gives thanks to everything and everyone who ever helped him grow, and heal from past trauma. On his subsequent single, Charlie Bucket confronted that trauma directly. "Daddy's Legacy" is a bluesy Americana ode to the singer's father, who died by suicide. It is a heartbreaking account of homage and regret as Bucket shares the lessons he learned from his father's life, and his death.
Can you tell us a bit about how you got started in the music business, and when you decided to take it seriously?
Charlie Bucket Project: First, I need to let you know that we recently changed the name of the band to The Charlie Bucket Project. Since, several recording artists are named Charlie Bucket. My band and I wanted to stand out and we decided it was a good idea to change the name to The Charlie Bucket Project. The original idea for the name of this band came from watching the Movie Willy Wonka and the Chocolate Factory. The character of Charlie Bucket in the movie stands for so much more than a boy that wins a lifetime supply of chocolate. We try to explain these metaphors with our music. He represents innocence, integrity, love and shows how a person with a good soul fares in this weary world. We opted for fun and love in this lifetime and Charlie Bucket represents this to us. Please join us on this ride. Little surprises around every corner but nothing dangerous.
I have been interested in music and making music since I was a small child but it wasn't until 2021 That I recorded my first track.  This project has really been one big manifestation.  I wrote my first song Thank You, on New Year's eve 2020 while riding in the car with my wife. It just flowed out of us effortlessly.  After the song was written I needed a band, a recording studio, and a producer.  Fate would have it that an old friend that I hadn't spoken with in month's sent me an email that same week to thank me for helping him.  This friend just happens to be a musician that plays every instrument.  He really is a virtuoso.  Check his solo stuff out if you get a chance his name is Aridonis. He lives in British Columbia Canada and he has everything we needed to make this project a reality.  My gorgeous wife Melissa Berman aka Mary Jane B bought me a recording studio for my den that February for my birthday and the Charlie Bucket Project was born.
What do you feel are the key elements in your music that should resonate the most with listeners?
Charlie Bucket Project: I try to connect with the listeners emotionally and challenge people to look at life in a way that will serve them so they can have the happiest, most fun life possible. A life filled with joy, love and laughter. My motto is we opted for fun and love in this lifetime. That's what life's all about…isn't it?
For most artists, originality is first preceded by a phase of learning and, often, emulating others. What was this like for you? How would you describe your own development as an artist and music maker, and the transition towards your own style?
Charlie Bucket Project: In my song grATTITUDE I end it by telling my niece Brooke Berman we are the music makers and we are the dreamers of dreams. Willy Wonka and the Chocolate Factory, specifically the Charlie Bucket character, has influenced me since I was a little boy.  Gene Wilder say's to him in the last scene.
Willy Wonka: But Charlie, don't forget what happened to the man who suddenly got everything he always wanted.
Charlie Bucket: What happened?
Willy Wonka: He lived happily ever after.
Jerry Garcia has always been my biggest influence musically.  Since I am not a lead guitar player I try to express this vibe melodically and with my lyrics.  I have always loved the movie Willy Wonka and The Chocolate Factory and Charlie Bucket was the inspiration for this project.  Everything he is we try to express musically.
What is your view on the role and function of music as political, cultural, spiritual, and/or social vehicles – and do you try and affront any of these themes in your work, or are you purely interested in music as an expression of technical artistry, personal narrative and entertainment?
Charlie Bucket Project: Well, I recently wrote a protest song called doomed to repeat it.  I'm hoping that it will be released by the end of June.  I usually try to stay away from politics but with the way the world is I just had to say my peace.  Although I am apolitical, a line in that song expresses this beautifully. "I don't like the Donkey or the elephant. All I am hearing is no we can't. I'm shakin my head. Because there all in bed. Those who don't learn are doomed to repeat it. My brother's and sister's eye's look defeated. Another law overturned and the crosses still burn." Sometimes someone needs to have a voice for those who can't speak. I felt it was my obligation to share my feelings on what is happening in the world socially and politically so we don't repeat some of the huge mistakes that were made in the past.
Do you write a song with current musical trends, formulas or listener satisfaction in mind, or do you simply focus on your own personal vision and trust that people will empathize and vibe with your sound?
Charlie Bucket Project: My music comes straight from the heart to the paper to the microphone. I'll get an idea or want to riff on something and I'm off to the races.
Can you walk us through your typical process of creating a song?
Charlie Bucket Project: The way we write the music is; I write the song and come up with a melody in my head. Then I sing it to Aridonis (AJ Buckley) he lays down all the instruments and brings it back to me. I will practice singing it for a couple of weeks of a track he sends me and then we lay it down in the studio. Which we are currently doing from my studio in Boca Raton, Florida to his studio in British Columbia, Canada. This has definitely lead to some challenges but as the time goes on we are getting better at it and definitely making it work.
How does your philosophy on life inform your songwriting?
Charlie Bucket Project: My philosophy on life is our music. I believe that it is everyone's birthright to be happy and peaceful.  I try to use my music to teach people how to do just that. grATTITUDE goes through a normal day in my life and I sing about all of the things I am grateful for. If I am not mistaken that song has the word thank you in it more than any song in recorded history.  That was on purpose. Although it wasn't originally written that way the universe brought that to light. Happiness does not come because you are grateful. You are grateful and therefore you are happy. Most people seem to have it backwards.
Putting aside any accolades or criticisms that fans, the industry, or the media may afford your persona or music, is there anything about you or your music, you think people may overlook, underestimate or misunderstand at all?
Charlie Bucket Project: I think people judge because they are in pain so I try to have compassion for their suffering and love the hater's even more they need it the most. I did find that people get really jealous and judgmental when you become a recording artist but like I said I just try to love them more.
What has been the most difficult thing you have had to endure in your life or music career so far, and how did you overcome that event?
Charlie Bucket Project: My Father's suicide was definitely the most difficult thing I ever had to endure. He was honestly one of the happiest, most loved men you could ever know and his death came as a huge surprise to everyone. So what did I do…I wrote a song about it and that is how Daddy's Legacy was created. I also created  video in his honor and it gives information on how to get help if you are struggling with suicidal thoughts.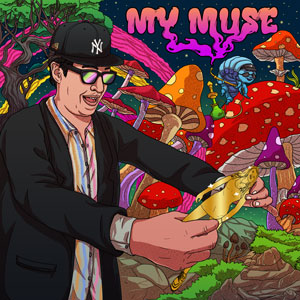 On the contrary, what would you consider a successful, proud or significant point in your life or music career so far?
Charlie Bucket Project: When my music reached over 100,000 streams on Spotify that moment really choked me up and I have been blown away at how far reaching my music has streamed on a global basis.
Do you feel that your music is giving you back just as much as you put into it, or are you expecting something more, or different in any way?
Charlie Bucket Project: Like my Daddy also used to say which he borrowed from the Beatles the love you take is equal to the love you make. That's how I feel about my music. It's exactly what I need and I have no expectations. It is just pure joy for me when I am performing or creating music. It's definitely my happy place.
With the music industry always changing and evolving, what are the things you like and do not like about it currently? And if you could change one thing about it, what would that be?
Charlie Bucket Project: I really don't think about that much I just keep on keepin on.
With social media having a heavy impact on our lives and the music business in general, how do you handle criticism, haters, naysayers, or the cancel culture general? Is it something you pay attention to, or do you simply ignore and move on regardless?
Charlie Bucket Project: I try to have compassion for their suffering.  The truth is hurt people hurt people. If they have the time and energy to judge me. They probably need to put others down to feel better about themselves. I don't waste my time or energy thinking about that. I got to make more music. "Great minds discuss ideas, average minds discuss events and small minds discuss people" – Eleanor Roosevelt, 1901.  That's how I feel about that.
If you had a choice to collaborate with any acclaimed international artist, producer or industry specialist right now, who would you choose, and why?
Charlie Bucket Project: I would love to collaborate with Sinead O'Connor, her son Black Boy's on Mopeds definitely inspired doomed to repeat it.  I think she would sound great on that track. I think the Indigo Girls, Sheryl Crow or Taylor Swift would bring such beauty to some of my tunes. My singing style has been called Dylanesque and I'm not sure that was a compliment…lol. I have always dreamed of singing a duet with John Bell from Widespread Panic. Me and the Devil Blues or Cortez the Killer.
What is the most exciting part of being an independent music artist for you, and which is the part you like least?
Charlie Bucket Project: I just love being part of the music industry. The ability to put our music out to the world on a budget is an honor and I am humbled by it and it is probably the first time in natural history that this has been possible. I am grateful to be born in these times for that reason.
What is the story behind your latest cover of "In Spite of Ourselves"?
Charlie Bucket Project: After releasing Daddy's Legacy I really wanted to come out with something that was a bit lighter and more fun.  I also really wanted to get my lovely wife Melissa Berman aka Mary Jane B to sing a duet with me.  What better way to do that than to honor John Prine who we lost in 2020. This song speaks to my wife and I and our everyday man (woman) appeal because that is who we are. I felt like I could have written it so why not sing it? Plus it is such a fun song to do and I was interested to see the feedback I would get covering a song that so many people know. The feedback has been really positive so far.
Your single "grATTITUDE" has uplifting lyrics and a Motown feel. Who are some of your musical influences?
Charlie Bucket Project: I have so many and there really are too many to name.  My first concert was the Michael Jackson Thriller Tour. My second was the Grateful Dead 6.17.91 Eyes of the world opener and my birthday show 2.26.77 was the first time Terrapin station and Estimated Prophet were ever played live.  Music is cosmically in my blood. I have been to Jazz Fest 3 times and love George Porter Jr. and the Runnin Partner's especially Happy Song that was a huge influence for grATTITUDE. Taj Mahal Fishin Blues, Stevie Wonder Superstition. I have also seen Panic over 100 times and been to probably over 100 Phish shows. Scott Bernstein of Jambase fame even credits me for starting the Wilson chant although I told him…I don't exactly remember it that way…lol.
Do you have a favorite motto, phrase or piece of advice, you try to live or inspire yourself by?
Charlie Bucket Project: Peace is every step, love is every breath.-Thich Naht Hahn. Life is the question, love is the answer.-Brent Berman, and Without love in the dream it'll never come true.-Robert Hunter
Creative work in studio environment, or interaction with a live audience? Which of these two options excite you most, and why?
Charlie Bucket Project: I really hope that I get to interact with the audience and get to start playing live shows.  I am looking for a band in south Florida to start playing with. South Florida musician please hit me up on my Facebook page or you can email brentberms@gmail.com.  Aridonis lives in Canada like I said so that is really the only missing link for me to get everything I could ever want out of this project. If that never happens well then It wasn't meant to be. I have been told on more than one occasion that I am a better performer than I am a singer. I'm pretty sure that was a compliment.
What do you find most rewarding about what you do as an artist? And do you have a specific vision or goal set in your mind that you would like to achieve in the near future?
Charlie Bucket Project: I find it rewarding when someone really digs my music and it makes them smile. When I was in Colorado for Halloween 2021 which was right after my first track Thank You came out. A college friend of mine that manages the Revivalist's Morgan Young came out to see me to let me know he thought my music was groovy and another college friend, John Addams was with him. John told me that his son loves my song, Thank You, and knows all the words by heart. Then he informed me that they sing my song and John say's in jest, "in Brent we trust…In Brent we trust."  I was really honored and humbled to the core. That was really special to me. Guy's that have known me a really long time that know and love music taking the time to listen to my songs and enjoying them.  Now that's hot. If that's the greatest thing that comes from this project, well then it was all worth it. Don't get me wrong I have the same rock star dreams as anybody else and it would be a dream come true to play Madison Square Garden one day. However, getting the love and admiration of a small child and a few good friends to help me pass the day that's enough for me.
   OFFICIAL LINKS: https://www.facebook.com/charliebucketfans