JDOVE is a rap/hip-hop artist from Los Angeles. His latest release "The Simplest" was inspired by a fine dining experience, focusing on the refined simplicity of small plates at an upscale restaurant. JDOVE's goal with the project is to marry music and food in a recipe that's simple to digest through the palate of the ear. "The Simplest" was produced by German duo Koebbel & Bngs. I was thoroughly impressed by this artist. Soothing, relaxing, funky, soulful and jazzy, are the words I would use to describe this track.
Music like this helps restore my faith in the notion that good, thoughtful music can still be created in this era of clones and unoriginality. This features infectious, memorable rhymes, laced with chunky hip-hop drums. This is recommended for anyone who can appreciate hip-hop, and groovy soul music and sultry, sleek vocals. In other words, grab this track and tell a friend.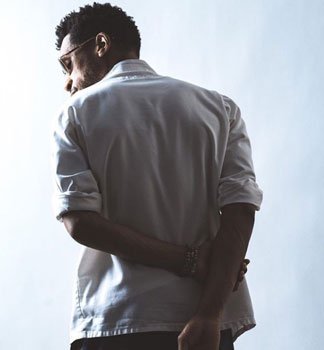 JDOVE isn't interested in pushing his public persona, but is more focused on creating something truly unique; a sound that is both consistently difficult to pin down in a box, but easy to love. Hence the title "The Simplest", is a fitting one.
JDOVE recruited a solid production team for the beat, having focused on building a song with a strong melodic backbone, all with the goal of making his sonic, floating sound accessible to the average listener, regardless of which genre they pay more attention to. This track is so addictively rhythmic, you just can't ignore it.
"The Simplest's" catchy, and nuanced verses, is an example of the songwriter's unique ability to meld personal experiences with universal idiosyncrasies. At the same time it is a clever way to distract listeners from the more deep-seeded issues hiding behind the rhymes, forcing them into multiple listening to uncover all the gems.
Categorizing music with different emotions and feelings is one of my favorite ways to describe and store a song in my collection, and "The Simplest" feels instantly comfortable and warm.
JDOVE's baritone voice is smooth and soothing, and the gentle guitar, drums and jazzy production makes for one of the year's most feel-good tunes to date. The rapper's verses are natural and easy going – a mood he flawlessly set's up right from the beginning of the song.
His voice arrangement reads like poetry floating on a page, which is undeniably enchanting. JDOVE will surely garner more and more recognition outside of his usual fan base, earning him a well-deserved spot as one of the most interesting and promising Hip hop acts in underground music today. JDOVE has found his sound, his wings, and a solid groove to get him off the ground and flying with "The Simplest".
OFFICIAL LINKS: SPOTIFY – SOUNDCLOUD – STREAMS – INSTAGRAM